From 23rd November to 19th December 2021, Nicola and Lynne went touring around the country - Only with Scotland's Best B&Bs. We hope this account of their adventures gives you a flavour of this feel-good Scottish journey from autumn to wintertime where they were warmly welcomed by our Scotland's Best B&B hosts.
In our 25th anniversary year, our journey takes to rural retreats, city escapes and the spectacular winter coastline. Winding our way across the length and breadth of Scotland from the Highlands to the Lowlands, tasting delicious local cuisine, a journey to explore and discover, unwind and rejuvenate. Distillery tours and tastings; castles; gardens; glorious walks, adventurous hikes and much more! Meet our welcoming hosts who shared some of the secret gems which you too can enjoy on your Scottish holiday.
You can also see lots more of the tour photos on our Facebook page.
Tuesday 23rd November - Day 1
Arrived at White Rose Tower and completely blown away by the grand hall. Lovely welcome by our hosts Liz and Simon, delicious breakfast and feeling very relaxed having spent the morning chatting and hearing their stories setting up this beautiful B&B. Looking forward to a second night in the most sumptuous cosy bed. A B&B that truly hugs you.
Wednesday 24th November - Day 2
After an hour hike all uphill we finally made it to the Fyrish Monument - mission accomplished! We even had time for a well deserved hot chocolate with marshmallows, delicious. The folly of the Fyrish Monument atop Fyrish Hill has spectacular views over the Cromarty Firth, the Muir of Ord and surrounding countryside of Evanton and Alness. The monument was built on the orders of Sir Hector Munro, 8th Earl of Novar in 1782.
Car parking is free at the Novar Estate car park. Set off on the Jubilee Path for a two mile uphill trek through the tall pine forest, crossing a footbridge and many uneven stone steps. Three hours on the trip will allow plenty of time to capture photos at the top and rest awhile before the descent. It's one of the hidden gems of the eastern section of the North Coast 500 and we'll be writing a full blog about it shortly.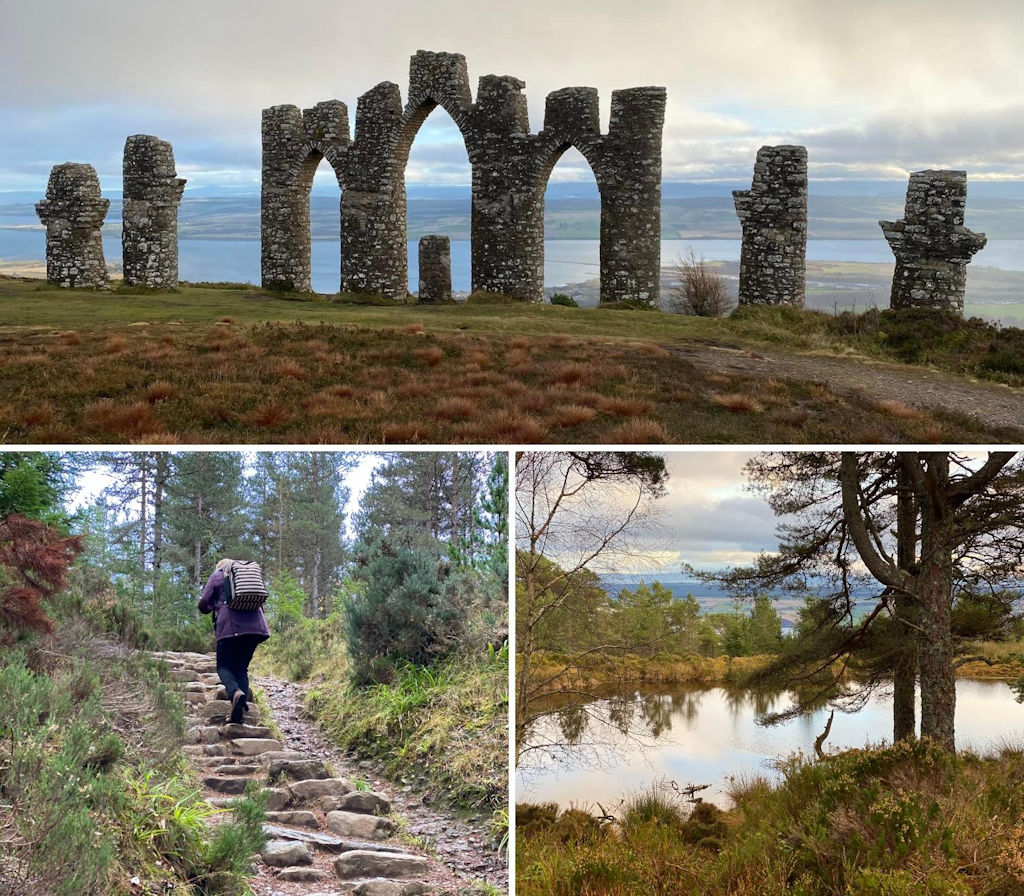 Thursday 25th November - Day 3
While staying at White Rose Tower, we had an enjoyable whisky tour and tasting at Clynelish Distillery in Brora. Hearing the stories and learning a little of the history, how Johnnie Walker created his famous blended whisky. Nosing and tasting 3 drams, after a wee tour learning the process of malting, mashing, drying, fermentation to distilling and resting in sherry and bourbon barrels. There's a delicious sweet aroma throughout the tour. The 14 year old single malt was favourite of the day, with flavours of tropical fruit, honey and caramel. A discount too for any shopping at the end of the tour.
Saturday 27th November - Day 4
Stormy weather at John O'Groats didn't stop our visit to the Brewery, Bar and Visitor Centre. Luke, our young guide shared the history of John O'Groats Brewery, we enjoyed the video in the visitor centre learning the story of their beer making journey. Definitely worth a visit in the far north of Scotland.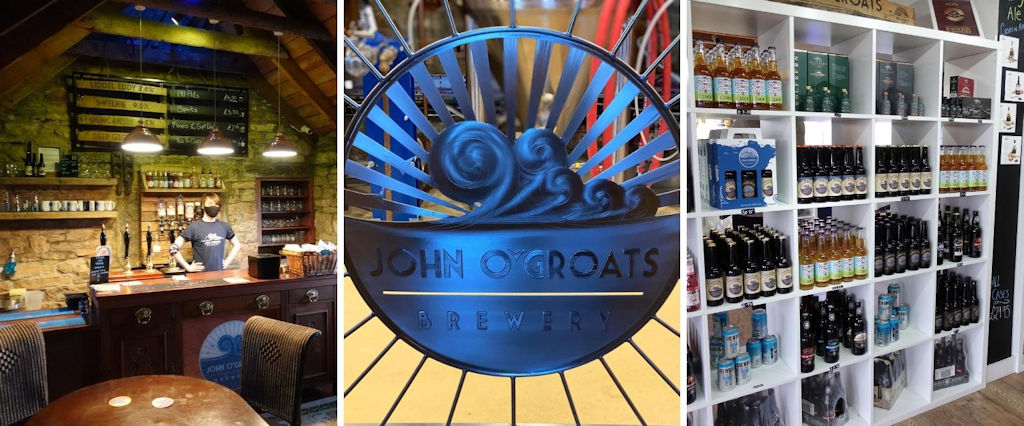 Sunday 28th November - Day 5
Such a treat to have the opportunity to ride an e-bike while staying at Inverness House. Cycles can be hired from the B&B by the day with helmets provided too if required. Just a short slope from the B&B to the Caledonian Canal, where level cycling takes you past several locks. The boats moored on the canal and ducks paddling and quacking as I cycle by give a calming peace, a sense of joy being at one with nature, and a really good feeling to be 'back in the saddle'. It's a dog walker's delight too.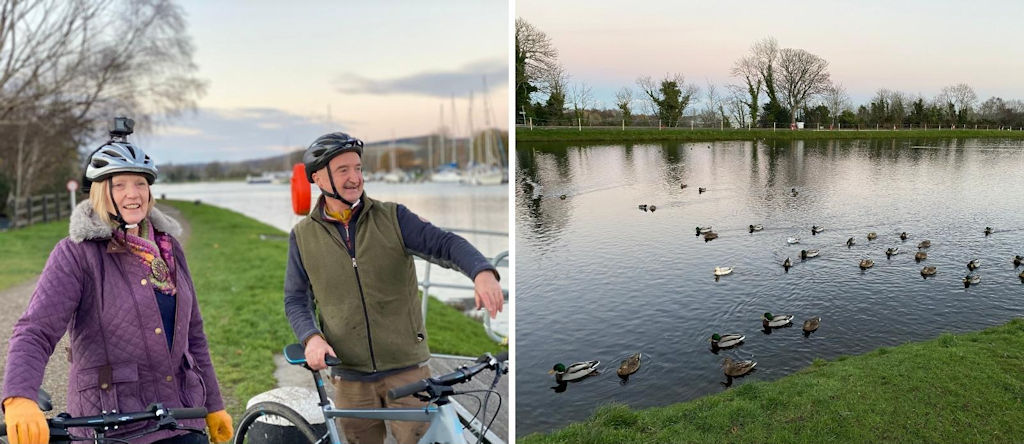 Monday 29th November - Day 6
On our way from Inverness, we soon reach Urquhart Castle which juts out into Loch Ness on a rocky promontory. Climb to the summit for spectacular views of the Loch, the second largest in Scotland. While today the views are tranquil and rugged, the Castle has a long history of turmoil and bloodshed. Now cared for by Historic Scotland, there is a visitor centre, restaurant and gift shop.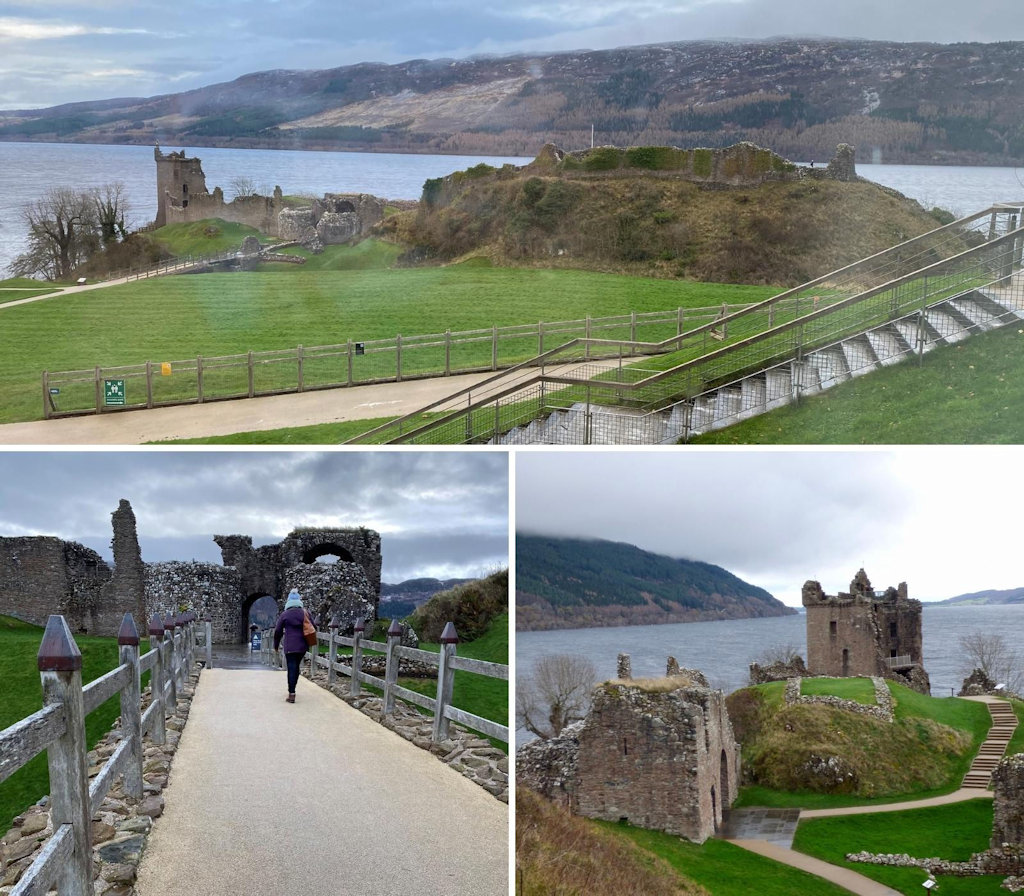 Arriving in the bleakest of weather on the road towards the Isle of Skye, it would be a lost opportunity not to venture across the footbridge and explore the spectacular sight of Eilean Donan Castle. Once inside no photography is permitted, and yet on sight of our tour guide Ian, adorned in his kilt, we were delighted he agreed for us to make a picture beside the roaring log fire! The Castle was restored in the 1930's as a summer residence for Lt. Col. John MacRae Gilstrap and his wife Ella. While the Castle is now run as a Charitable Trust, the old staff quarters are converted into a modern apartment where the MacRae family still reside.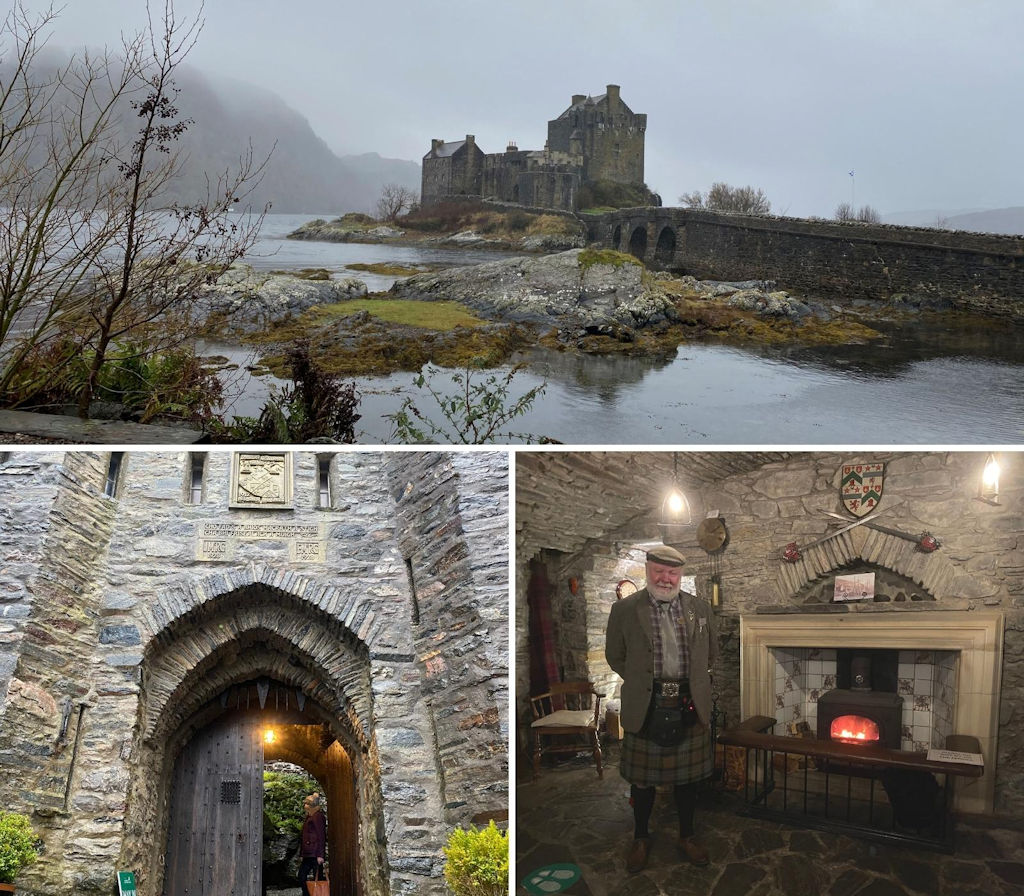 Our hosts Alison and Neil at Strathgorm B&B on the Isle of Skye have been welcoming guests to their lovely home for 30 years. Overlooking the sea across to the small islands towards the mainland, the B&B is near Broadford and is just a short drive from the Skye Bridge.
Tuesday 30th November - Day 7
After leaving Strathgorm on the Isle of Skye, we called in to meet Ian and Sheila for lunch at The Heathers B&B at Spean Bridge on our way to the Glenfinnan Monument (62 steps to the top!) and the 'Harry Potter' Viaduct. We enjoyed Sheila's homemade bread and her award-winning marmalade. Of course there was whisky marmalade too, and Nicola went on to taste Ian's favourite Glenfiddich Malt Whisky Liqueur!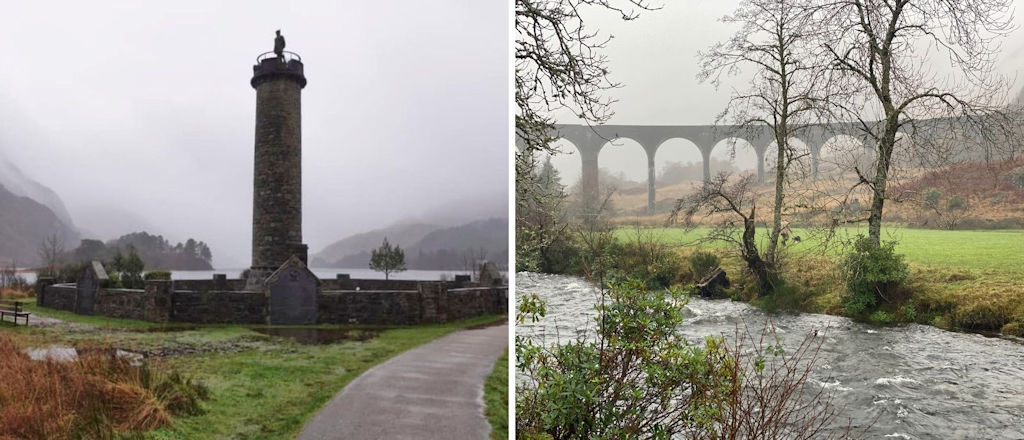 Overnight we stayed at Binnilidh Mhor B&B where we enjoyed a delicious home-cooked evening meal and settled down by the cosy log fire in the lounge with our hosts Allan and Sheila. Halfway between Inverness and the Isle of Skye, Binnilidh Mhor is ideal for exploring the Highlands.
Wednesday 1st December - Day 8
Spectacular skies and a glorious sunset on our 176 mile journey from the Highlands to Campbeltown following part of the Caledonia Way. Stopping near Invergarry for a while at Glengarry Viewpoint, with views to Knoydart on the west coast and the beautiful mountain ranges. A brief stop to take in the sight of Castle Stalker, situated on a tiny islet near Port Appin, about 25 miles north of Oban.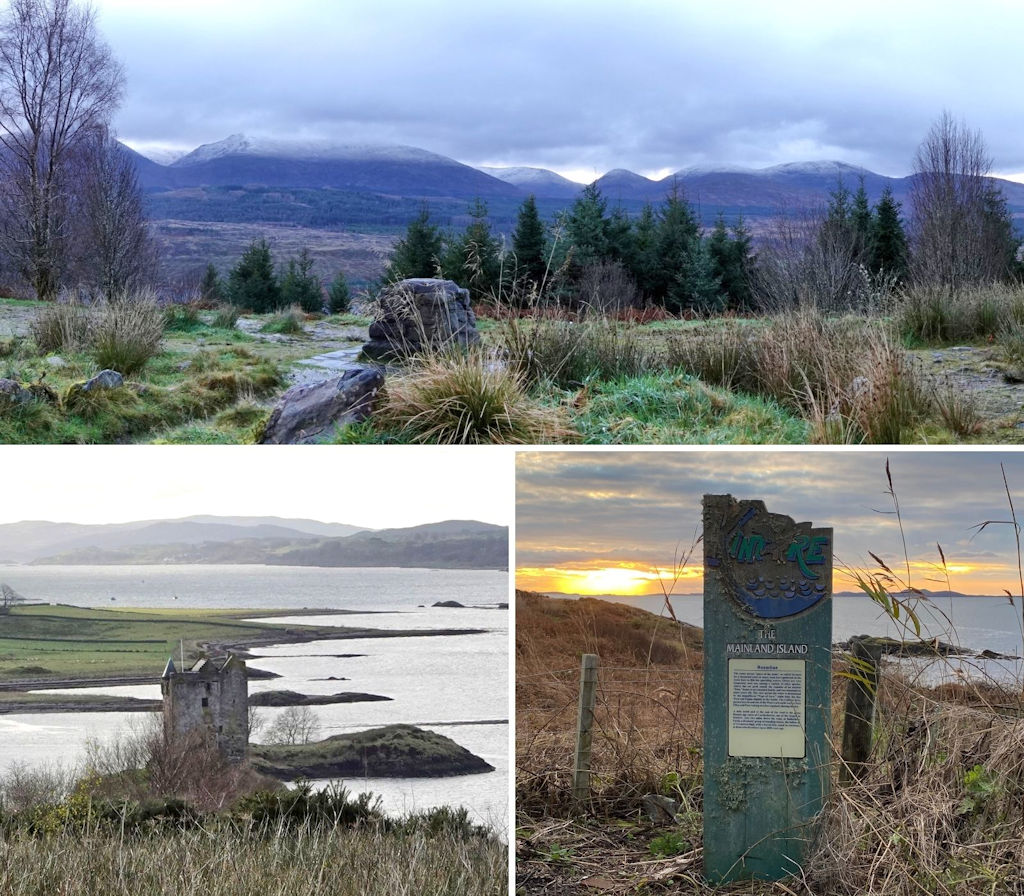 Arriving at Tarbert, our journey continued south around the west coast of the Kintyre peninsula which you can explore on a 66-mile circular route known as the Kintyre 66. This peninsula is one of Scotland's hidden gems, with island views to Jura and Islay to the west and beautiful beaches. We arrived in Campbeltown to the warmest of welcomes by John and David at Gowanlea Heights B&B.
Thurday 2nd December - Day 9
Our two night stay at Gowanlea Heights B&B allowed for a hike down the winding track to the Lighthouse at the Mull of Kintyre, it's a big trek to return to the top, and gives a feeling of accomplishment when you finally reach the peak! A short drive to Southend, for a stroll along the sandy beach, speckled with sea-glass. A little further to a rocky cove where seals languish in the morning sunshine. Keil Caves are close by and St. Columba's Footprint can be seen near the cemetery and former Castle and Abbey.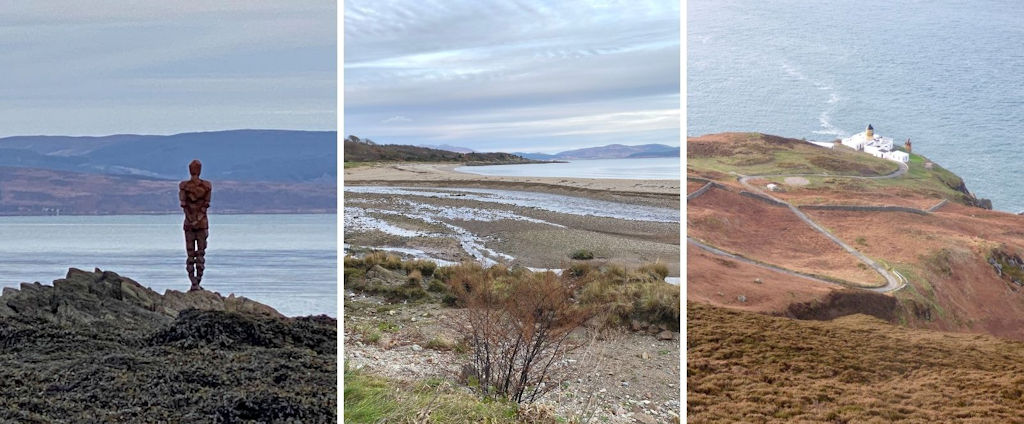 Our tour guide John, from Gowanlea Heights B&B accompanied us for our second guided tour of the day on the east coast of Kintyre to Saddell Bay. The location where Paul and Linda McCartney's 'Mull of Kintyre' video took place. Here we could wander over the mounds to the former Abbey, venture around the outskirts of the privately owned Castle beside the beach and clamber over seaweed to touch-base with GRIP, the unique sculpture created by Antony Gormley.
Highlight of our day was discovering the wee Bothy featured in the video, and having the opportunity to venture inside, climb the wee staircase to the tiny room in the loft.
Friday 3rd December - Day 10
The shortest route to Ayrshire for our next stay is via the island of Arran, taking the ferry from Tarbert at the top of the Kintyre peninsula. There sits above the port the now ruined Tarbert Castle, several Hebridean sheep enjoy grazing nearby.
Once on Arran, a quick visit to the ruinous Lochranza Castle looking out to the sea. A short drive to Arran Distillery, not open for tours on the day we visited. Our drive continues south in a clockwise direction, and led to a short visit to Brodick Castle and Gardens, before arriving at our second ferry terminal of the day, to travel to Ayrshire on the mainland once again.
Saturday 4th December - Day 11
Today our journey takes us from Ayrshire to Dumfries & Galloway. Our brief pilgrimage to Robert Burns (1757 - 1796) begins with a visit to Burns' Museum in Alloway, hear we learn of Burns' early life as a market gardener's son, his father tending the lands of wealthier landowners left little time to persue his own garden.
The cottage where Burns was born is in the form of a But 'n' Ben, where the kitchen is the hub of the home with a box bed for warmth and animals tethered further along in the cottage. Cheese and butter would likely be made from cow's or goat's milk at the other end of the cottage. His mother Agnes would tend their own garden, providing vegetables for the family.
Moving on to tenant farms, it was in his birth cottage the first Burns' supper took place on 25th January 1801 to celebrate his life and works. The Burns' Monument in the nearby Burns' Gardens are located beside the Brig O' Doon.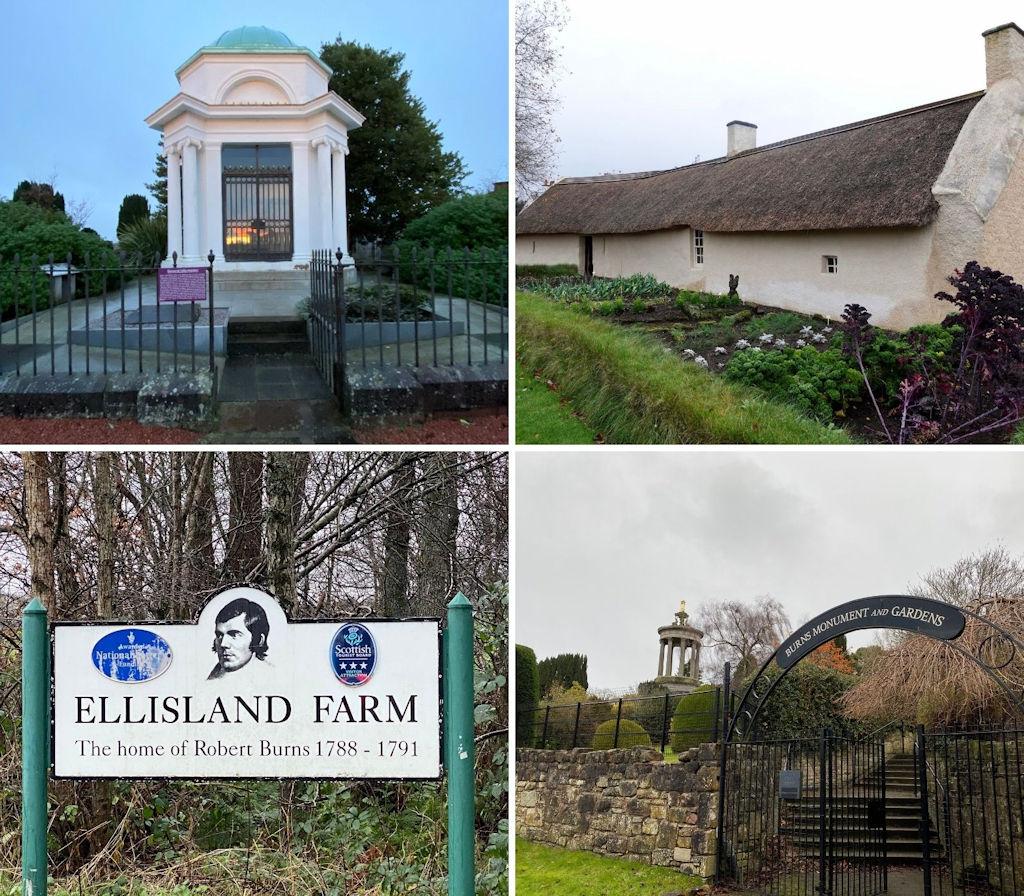 Once married to Jean Armour, Burns' young family moved to Ellisdale Farm in Auldgirth, Dumfries where two of his sons were born. The Farm is now a museum to Robbie Burns with many farm implements on display.
It would have been just a short time after writing Auld Lang Syne and A man's a man for a'that, Burns' died at the young age of 37 in Dumfries. He was interred at St. Michael's Kirkyard in Dumfries.
In 1815, Burns' coffin was moved to the Mausoleum in St. Michael's Kirkyard. HIs wife Jean survived him by 38 years. Jean, along with 5 of their 9 children are buried with him.
After a full day exploring all things Robbie Burns, it was super to arrive at Southpark House on the outskirts of Dumfries, with beautiful views over the rolling valleys and hills. Ewan, our award winning host has been welcoming guests to his B&B for more than 25 years.
Sunday 5th December - Day 12
Our stay at The Waterside Rooms has been one of serene indulgence, to have two nights at this beautiful location with stunning views to the sunrise and sunset on the Solway Firth. The scene changes at every glance with the ebb and flow of the tide and each moment reflects how we live side by side with nature. Birds potter on the sands and swoop and your eyes are drawn again towards the Solway. Our suite of rooms includes a delightful double bedroom, lounge with sofa-bed and room to dine with a spacious shower-room, all with ambient lighting and sensor lighting for night time safety.
Grateful to our hosts at The Waterside Rooms for recommending the Caerlaverock Wetland Centre (Wildfowl and Wetlands Trust) in Dumfries & Galloway. We arrived on a beautiful morning shortly before feeding time of the wild whooper swans, ducks and geese. The sight and sound are phenomenal, and yet brings a sense of calm, and feeling at one with nature. Hundreds of barnacle geese all the way from Svalbard in Norway swooped over our heads to a nearby field to graze in the autumn sunshine. The hawthorn bush lined paths that lead from the Visitor Centre have many hides and view towers to watch and wonder at so many species of birds on the smaller pools and grassland. Caerlaverock Castle and Gardens (Historic Scotland) are nearby too.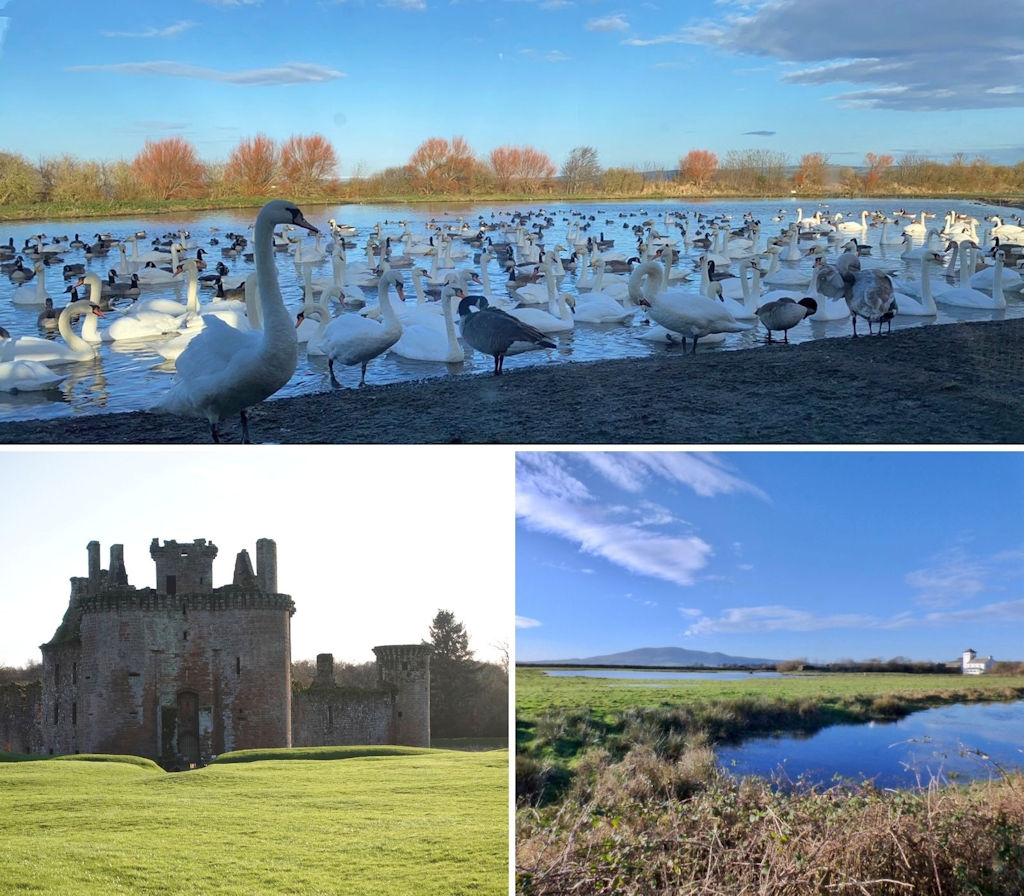 Monday 6th December - Day 13
While staying at The Waterside Rooms, we spent a unique and interesting morning at The Devil's Porridge Museum located in Eastriggs near Gretna Green. The museum tells the story of the 30,000 women and men who worked at HM Factory Gretna, coming from all across the UK to produce munitions for World War One. Local people have contributed their stories from evacuation to their own involvement in the war effort. It leaves a lasting and moving reminder.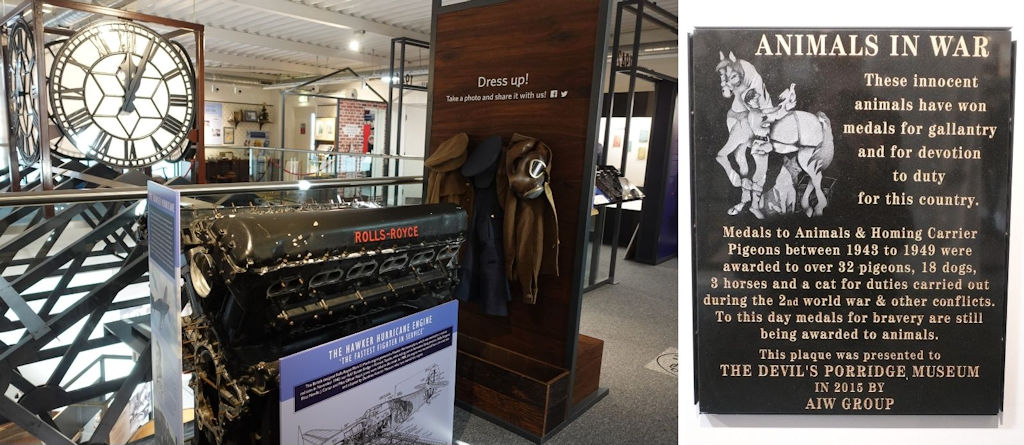 Then we enjoyed a beautiful sunny afternoon arriving at Abbotshaw House Farm B&B for a jaunt around the Borders countryside on their trike. Pam and Tom welcomed us into their home decked ready for the festive season. After tea and coffee, we were fitted with safety helmets and set off into the rural landscape with views for miles across The Borders to the rolling hills of Cumbria, as well as a glimpse of Hermitage Castle. Wrapped up cosy and warm, the trike is a fabulous way to explore, comfortable, exhilarating and the bliss of it all, quite takes your breath away.
Tuesday 7th December - Day 14
We enjoyed a wonderful stay at Mill House B&B at Kirk Yetholm in the Scottish Borders where Clare and David have been welcoming guests to their beautiful home for 18 years. While it is a walker's delight, situated at the end of the Pennine Way and close to St. Cuthbert's Trail, there are so many historical sights to visit nearby.
Our journey takes us on a whirlwind trip to capture images of four Scottish Abbeys in The Borders. It is a cycle route of some 70 miles, following country roads with many twists and turns and inclines with beautiful views to Cumbria. We stumbled upon the Viewpoint at Leaderfoot Viaduct and were blessed with a sight to completely surprise.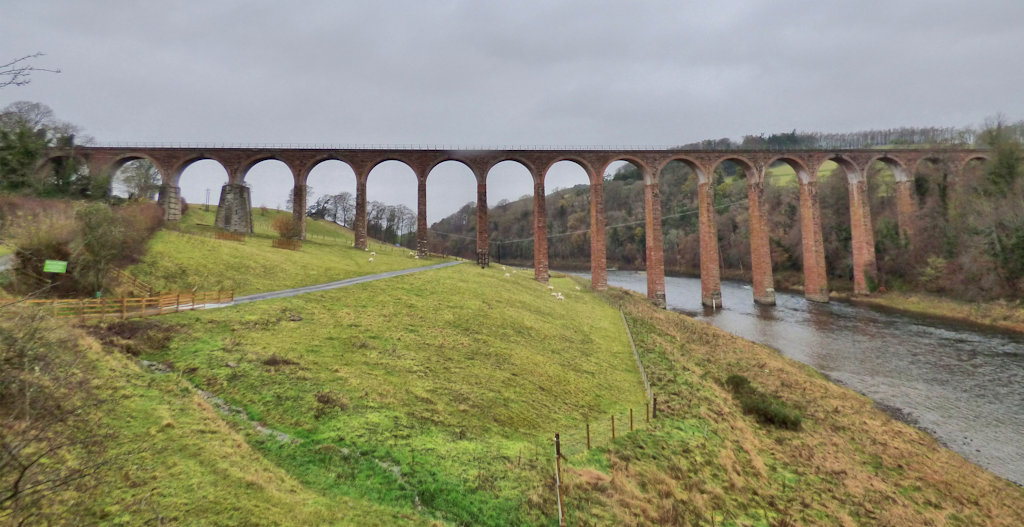 While our visit to each of these Abbeys was far too brief to take in the full splendour of the architecture, we appreciated the beautiful landscape and the lives of the humble monks and canons whose days were spent in worship and prayer. All the abbeys are now in the care of Historic Scotland.
Jedburgh Abbey, the Abbey of St. Mary, sits in an elevated position over the River Jed and provides an awesome sight for those arriving from the south. With gothic architecture, much of the church is still intact with the lower domestic buildings now ruinous.
Melrose Abbey, was founded in 1136 by Cistercrian monks, with fertile lands on the River Tweed. A museum with many artefacts can be visited within the Abbey grounds.
Dryburgh Abbey, while beautiful is in a ruinous state and yet complimented by the landscape. Wander along the paths amongst beautiful trees.
Kelso Abbey sits in the centre of the town with much renovation works taking place to maintain its safety.
Wednesday 8th December - Day 15
After leaving Mill House B&B, our brief visit to the Winter Garden at Floors Castle near Kelso made for a lovely walk around the perimeter in the morning sunshine, through the Cafe and Tea-rooms to the Millennium Garden featuring a French style parterre. The backdrop of rhododendrons are sure to be a stunning site in the spring.

Driving up to Edinburgh, we got ourselves all ship shape for boarding the Royal Yacht Britannia. In service from 1954 to 1997, the Yacht sailed more than a million miles around the globe. Five members of the Royal family have honeymooned on the yacht, which is now permanently berthed at Ocean Terminal, Leith in Edinburgh. With more than 300,000 visitors each year, it turned out that December was an excellent time to enjoy our leisurely tour, complete with hand-set to self-guide and learn a little of the history throughout the five decks.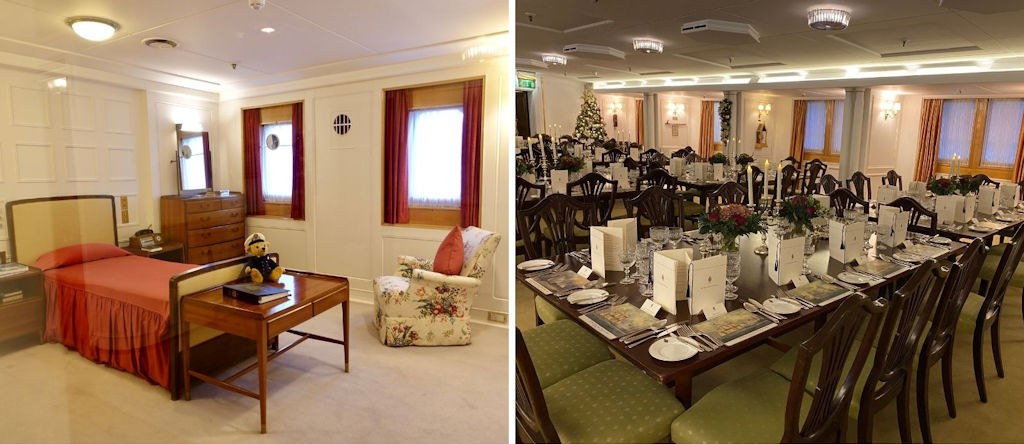 Pure joy to leisurely wander through the Royal Botanic Garden Edinburgh glistening with all the wonder of Christmas, while sipping a cupful of mulled wine. Mesmerised by the calmness of beautiful background music and carol singing, it really is enchanting, at a pace that is your own pace. The Botanical Garden shop is open too for some Christmas shopping mid-way! And just when you think it's over, there's so much more. And Santa too, with his promises of Christmas cheer.
The finale to our first evening in Edinburgh staying at The Town House was enjoying the most delicious dinner on MV Fingal, berthed at Alexandra Dock. This delightful restaurant complete with cocktail bar opened in 2018. Attentive and chatty staff are a joy to meet and so welcoming, inviting us to take a peek at the Bridge and the glistening Engine Room. It really is so much more than fine dining and the most delicious roast duck and Christmas pudding went down a treat!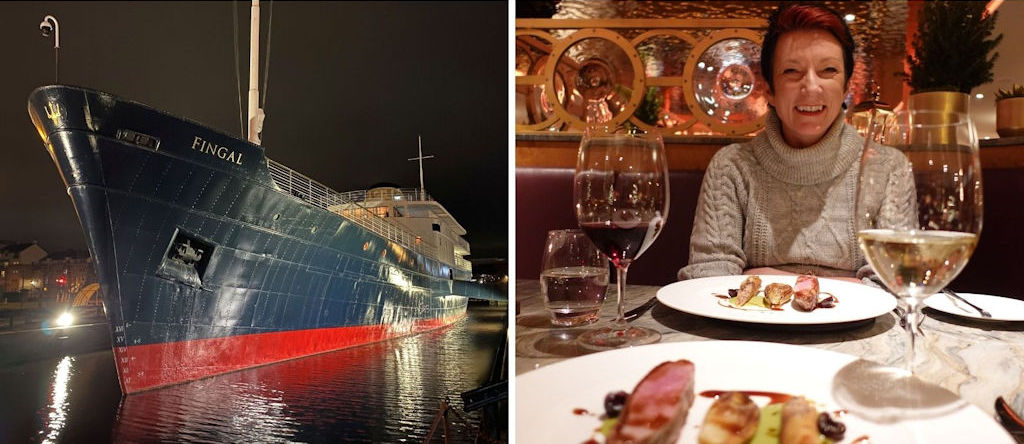 Thursday 9th December - Day 16
As we continue our 2-night stay at The Town House in Edinburgh, our day begins with a guided walking tour by Auld Reekie Tours, to visit the Underground vaults. Meeting Andrew, our exuberant tour guide, who's so funny, so scary and such a delight to learn a little of the ghoulish history beneath the City of Edinburgh, with stories of beheading and torture, ghosts and witchcraft! And yet, Andrew's meticulous care kept us all safe for the high steps to encounter and low lintels all in complete darkness. One to recommend.
Next on the agenda was a visit to the Christmas markets, sipping warm and spicy mulled wine as we ventured around the festive food stalls, Christmas crafts and merry go rounds to delight the children. A big wheel too, to see right across the City.
After more than two weeks of our hiking, biking whirlwind tour of Scotland's Best B&Bs, it was time to relax and enjoy some pamper time at Thai Castle Spa! Our therapists Sandra and Rachel are more physio than massage as they pummelled and stretched our bodies back into shape! Their mindfulness for our wellbeing was quite overwhelming in an atmosphere of pure calming bliss.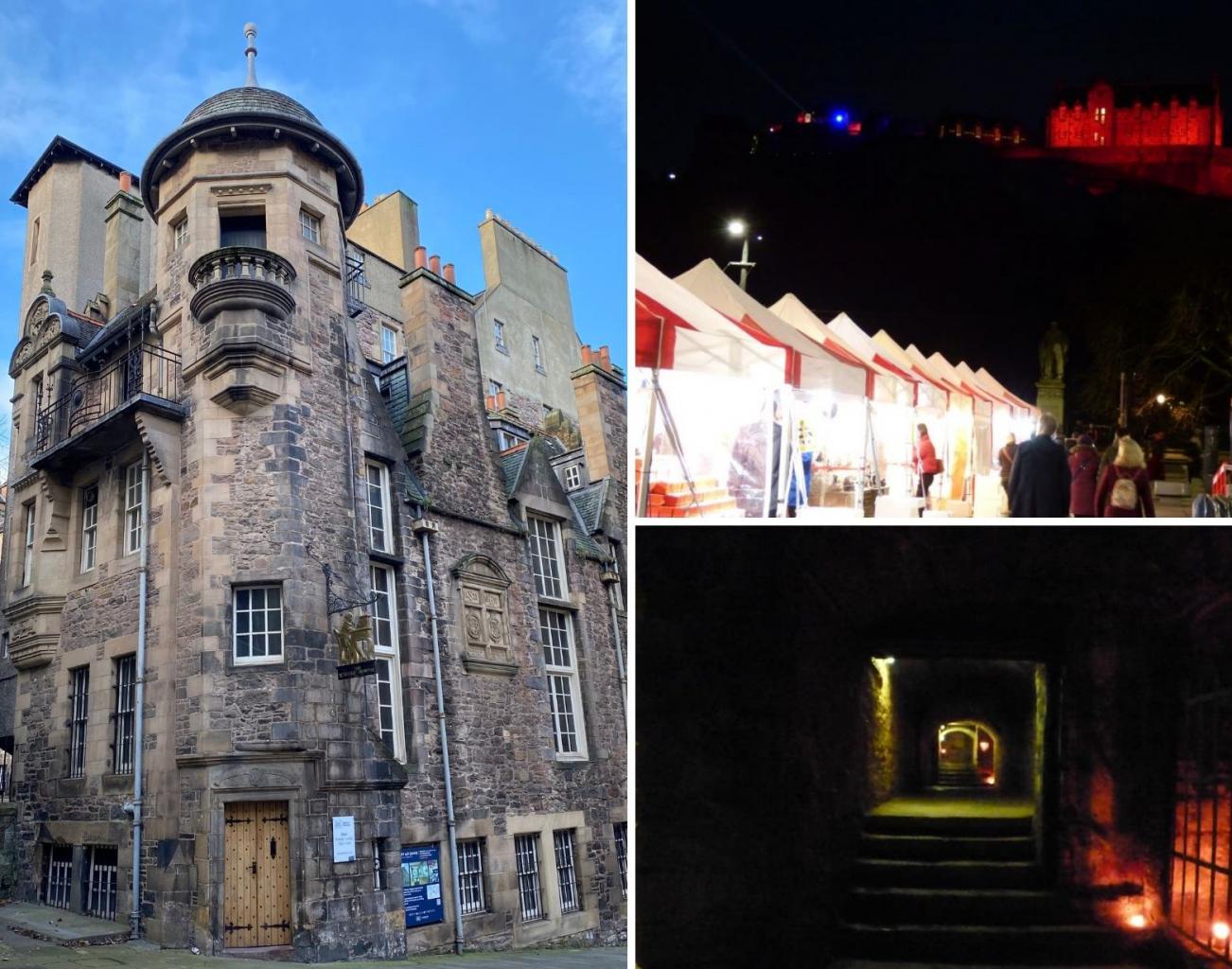 More sightseeing of some of Edinburgh's history, it was great to find the Writers' Museum following our earlier trip exploring a little of the life of Robert Burns. A kilted piper made our day beside the Castle, before calling it a night with mulled wine and a wee dram in one of many of Edinburgh's bars.
Friday 10th December - Day 17
Our journey takes us to the Kingdom of Fife and the award winning 800 year old conservation village of Culross (pronounced Coo-riss) in glorious December sunshine! We couldn't resist a picnic of hot chocolate with marshmallows and local scones with clotted cream and Scottish preserves! The location has featured in many episodes of the Outlander series.
The sunshine continues as we arrive at the beautiful Japanese Garden at Cowden Castle, although the Castle was demolished in 1952. This Garden in Clackmannanshire was designed by Taki Handa who studied Garden Design at the Royal School of Garden Design in Nagoya. Quiet contemplation as we meander around the perimeter of the pond, a moment to enjoy this calm and tranquil setting before venturing into a woodland walk, and arrive just in time for delicious home made soup at the cafeteria.
Our day ends with a wee dram and winter warming mock-tail at Road Hole Bar on the fourth floor at St Andrew's Golf Hotel, our visit was recommended to us by our member Bayview Guest House. The view from the picture windows gave us a glimpse of the last of the golfers finishing off their round, just as the sun goes down.
At the end of our busy day, it was a joy to arrive at Tarskavaig B&B near St Andrews where we had pre-ordered a delicious Charcuterie board and bottle of Prosecco. A real treat to spend an evening 'at home' by the cosy log fire, with our hosts Allan and Fiona joining us later in the evening in their spacious dining room. The panoramic views we were to discover at breakfast are quite stunning looking out to St. Andrews, Perthshire and the Angus hills.
Saturday 11th December - Day 18
It was such a treat to meet Liz and Charles at Craigellie House, as well as their resident peacock and the hens which laid delicious eggs for our breakfast! Staying 2 nights has allowed us to enjoy a lifestyle in a country mansion house with all the warmth and hospitality to feel so at home. There's a welcoming calmness and plenty of local forest walks including the Den of Alyth and Reekie Linn Waterfall which we've been able to explore.
Our gin making journey begins at Darnley's Gin School at Kingsbarns, St. Andrews. Guided by Gordon and the tour hosted by Dot, both very informative, lots of fun and tasting too. Choosing botanicals, and learning the process, our own expression came to be. Nosing and tasting Darnley's Original, Spicy and Navy strength, first neat and then with a mixer. A little of the history of Gin followed and finally a visit to the Still, before a taste of our own expression. Bottling, sealing and labelling and our own 70cl bottle of gin was ready to take home to share with family and friends.
Sunday 12th December - Day 19
While staying at Craigellie House we were very fortunate to visit Glamis Castle in Angus which is open Thursday to Sunday until 19th December. The Castle and Gardens will then close until April 2022. A large part of the Castle opens to the public, while it is home to the Earl of Strathmore and Kinghorne. The Lyon family have resided at Glamis since the 14th century. Queen Elizabeth the Queen Mother, spent her childhood here from the age of around five years and is one of ten children. The tour is self-guided by downloading an app on your phone, although guides are on hand to answer any questions.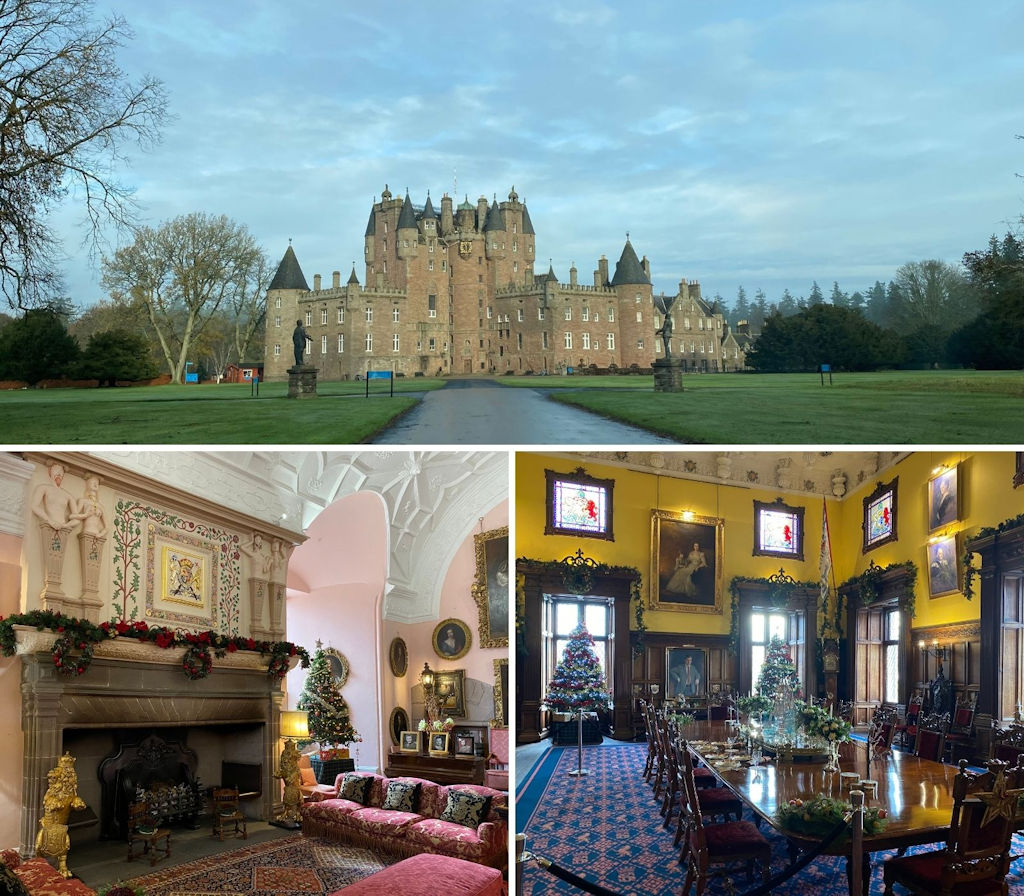 Close to the castle in the delightful village of Glamis is The Gin Bothy Experience. There is an Exhibition Room, Bothy Larder Shop and Tasting Rooms, where four seasonal expressions of Bothy Gin and liqueurs are nosed and tasted on a self-guided video tour. Festive favourite of the day - Merry Berry! Further tastings can be sampled in the Larder Shop prior to purchase. The ladies are all so welcoming and most helpful recommending an array of mixers. Dog friendly and fully accessible.
Monday 13th December - Day 20
We continue our exploration of Perthshire with some tips from Pauline at Northlands B&B and take a drive to the Queen's View near Pitlochry. The Viewing platform is open all year although the Visitor Centre is closed in wintertime. However, just four miles away, the Killiecrankie Visitor Centre and Jacobite Cafe are open to visitors and you can indulge in French and German patisserie delights which are made in their own kitchen by Jean Philippe. Enjoy in the cafe or on the decking where you can enjoy the views which are particularly stunning in autumn. Hot food is served too.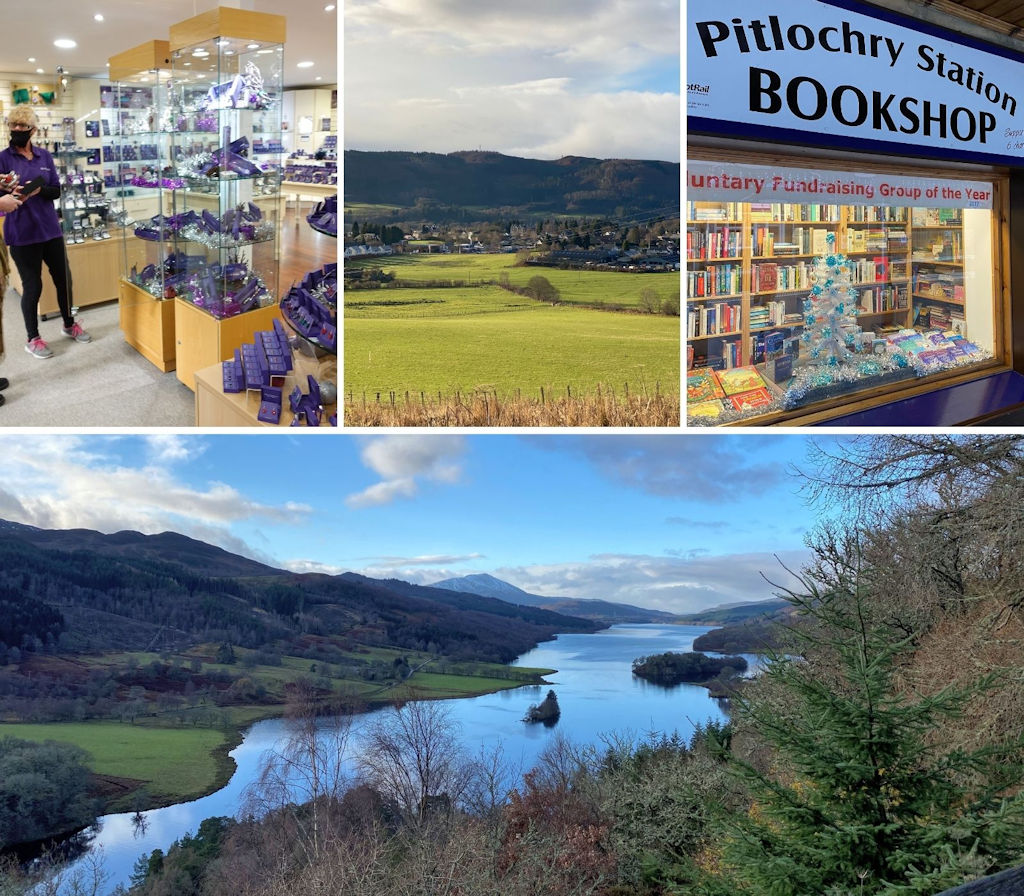 In the centre of Pitlochry it was such a delight to visit Heathergems factory, shop and visitor centre and learn a little of the history of the unique processes to produce items of jewellery and small gifts from the stems of heather. While the pieces used to be all hand-crafted, technology has moved on. Computerised cutting equipment and lathes are now being used, but each piece remains unique and individual in colour.
Our journey continued to an award-winning charity bookshop run by volunteers, located on the platform of Pitlochry Station. It is a real hidden gem with most of the books donated by local residents.
We arrived at Woodcroft House in Bellwood Park in Perth where Claire has prepared a delicious Afternoon Tea for two. Pre-order sweet and savoury delights of your choice from Claire's extensive menu. She also serves evening meals in the Peacock dining room. Our beautiful guest rooms are calling, it will be lovely not to drive this evening after a glass of wine, and no charge for corkage.
Tuesday 14th December - Day 21
Our Robbie Burns journey continues as we arrive in Aberfeldy, such a delight to take a walk over the footbridge and through the woodland with rushing waters. We were delighted to locate the bench where the statue of Robbie Burns rests beside the flowing waters. Such a calm and beautiful location to join Robbie on his seat and rest awhile. The birks (birch and other trees) are a 1.5 mile circular walk around the Moness Glen. Nearby Brae House B&B is the perfect place to stay.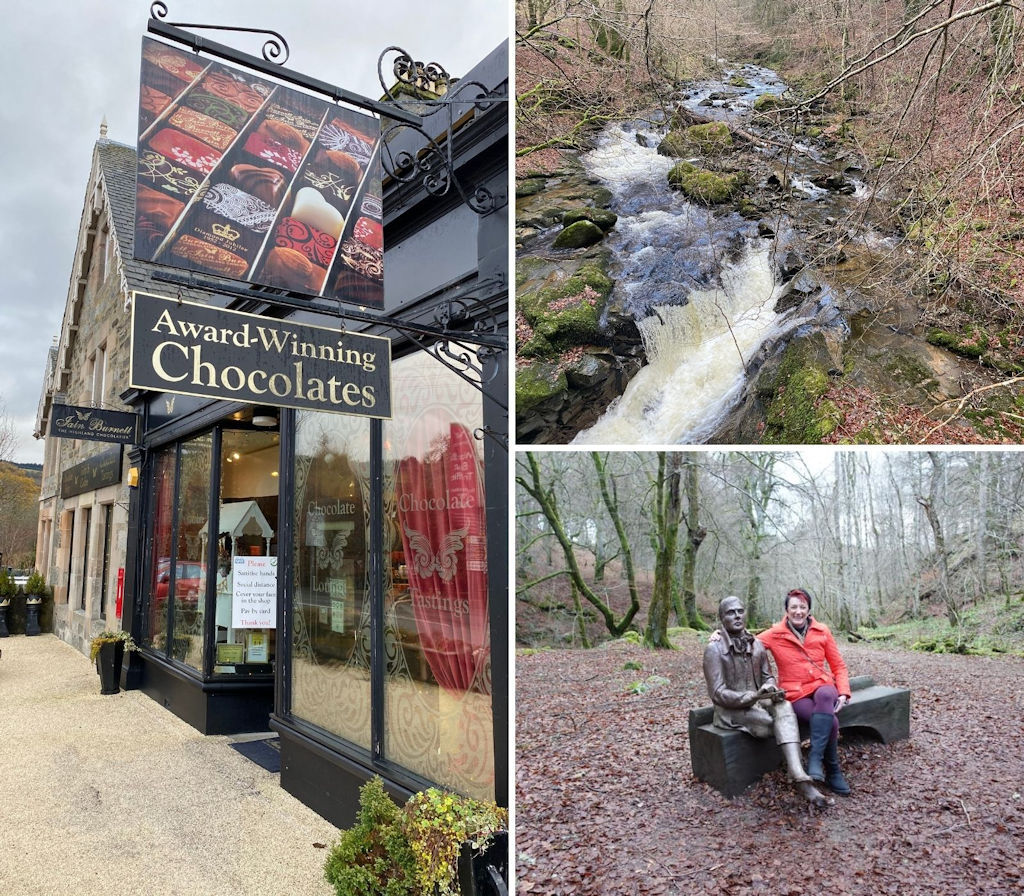 Thanks to Patti at Brae House B&B in Aberfeldy for the recommendation to visit Ian Burnett Highland Chocolatier Tasting experience. Our journey began guiding us through the processes to make delicious chocolates and velvet truffles. Many of the velvety truffles take two days to create and each chocolate is quality checked three times to ensure perfection. While I chose the milk and caramel tasting experience, Nicola enjoyed the dark and fruit expression. Our self-guided tour via headset talked us through the process of each of the five chocolates for our tasting. Followed by the most delicious hot chocolate with marshmallows and cream!
Welcoming guests to their home at Coig na Shee for fifteen years, our hosts are well established in the small community of Newtonmore, near Kingussie. Marion and Graeme had kindly cooked an evening meal for our arrival and we joined them for a delicious chicken supper in the guest dining room. Just a short drive, the Wild cat trail can be followed, with information at the visitor centre in the town centre. As well as the Highland Folk Museum and a little further the Cairngorm Reindeer Herd is open at the weekends until Christmas.
Wednesday 15th December - Day 22
Castleview B&B is on the edge of Moray and close to Aberdeenshire, with 35 whisky distilleries in the area and many castles. It is the perfect location to experience all that Speyside has to offer, with fine beaches just a short drive and salmon fishing when in season too.
Betty and Ian make a delightful team and ensure their guests have a comfortable stay. Ian trained with Nick Nairn and is an accomplished amateur chef. New to Castleview is their offering of a fine dining Tasting Menu which includes 6 mouthwatering courses. Guests are welcome to bring wine(s) to enjoy throughout the evening. Our dining experience included Roast butternut squash soup; Cherry tomatoes consommé; Scallops with chestnut velouté; Pork three ways; Pheasant with cauliflower purée ; and a duo of deserts including Passion fruit cheesecake and Pear Belle Hellina.
Thursday 16th December - Day 23
While staying at Castleview B&B, Ian recommended we visit Craigellachie bridge to explore its regimental history. It was here in 1994 that the Queen's Own Highlanders (Seaforth and Camerons) and the Gordon Highlanders met and formed a union. Three days later at the Dreghorn Barracks in Edinburgh, the Highlanders was formed (Seaforth, Gordons and Camerons). The nearby Highlander's Museum at Fort George, Ardersier, near Inverness is open daily all year round. With more than 50,000 artefacts, the museum has the largest military collection outside of Edinburgh.

Saturday 18th December - Day 25
Sharvedda is a working croft in a beautiful location looking out to the Pentland Firth with views to Dunnet Head and across to the Orkney Islands. A perfect location to see puffins from mid April to July on the rugged cliff tops. It was super to watch the antics of the alpacas in the adjacent paddock. Patsy prepared a light supper for our arrival of delicious Cullen Skink followed by a toastie and cream scones. There are super walks close by with several beaches to explore, including caves and a sea arch and lighthouse at Strathy Point.
Our travels take us from the NC500 coastal route to the interior where red deer roam and buzzards swirl above the big Sutherland skies. As we climb the hills and through the heather, following well trodden paths to the Unknown, a sculpture by artist Kenny Hunter. It is moving in a way that reflects the mystery and the grand open spaces of these empty lands.
Sunday 19th December - Day 26
Catching up with Sue and Stewart at Home Farm in the Muir of Ord, just a short distance from the North Coast 500 route. Their passion for gardening shows in the glorious all season display of evergreens and shrubs and beautiful trees in the large garden that surround the B&B. Sue enjoys home baking and is an accomplished cook. Guests can pre-book evening meals to enjoy after exploring the beautiful locations in the Highlands such as Glen Affric or a spot of dolphin watching at Chanonry Point, and return to watch the wildlife and birds in the garden from the conservatory.