Written by Lynne Read from the Auld Post Office B&B in Caithness where guests can stay and book an evening of gin tasting in the Juniper Lounge.
Lynne and her daughter Nicola were touring Scotland in December 2021 and staying Only with Scotland's Best B&Bs (read about the tour) while they discovered Darnley's Gin School at Kingsbarns, St. Andrews in Fife.
Lynne recounts their adventure....!
We couldn't resist the opportunity to make our very own gin! We were the only two booked in for the morning lesson. Our tutor Gordon, a former maths teacher talked us through a little of the history of the processes used to make Darnley's and how their distiller Scott investigates new possibilities to introduce different flavour gins to the Darnley's range.
Advice was given on the various botanicals, the herbs, spices, flowers, fruit etc., the impact of each, as well as Scott's recommended amount to enhance the flavour and not overwhelm.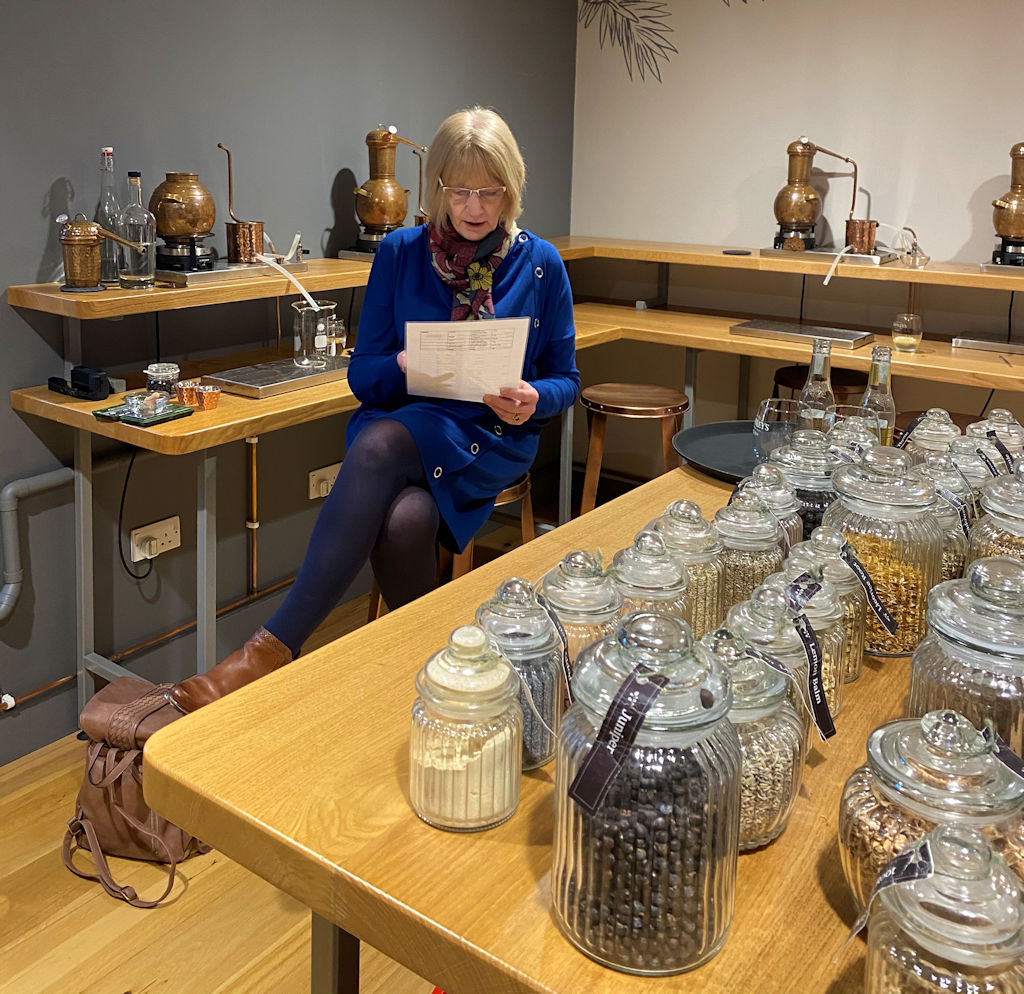 Nicola took over the video as I set off on my botanical journey! Knowing what I like from our own Juniper Lounge at the Auld Post Office, I wanted to make a warming fruity autumnal distil. I didn't want to go overkill and throw everything into the pot!
And so, my 'secret' recipe of nine botanicals includes of course juniper, coriander, and angelica as well as sloe berries and rose-hip for the vapour pot to give a berry 'nose'. To add a little spice to the mix, nutmeg, cassia and orris root were added and poppy seeds to give a nutty flavour. After carefully weighing the ingredients and placing in the still, Gordon watched over the distillation for the one hour process.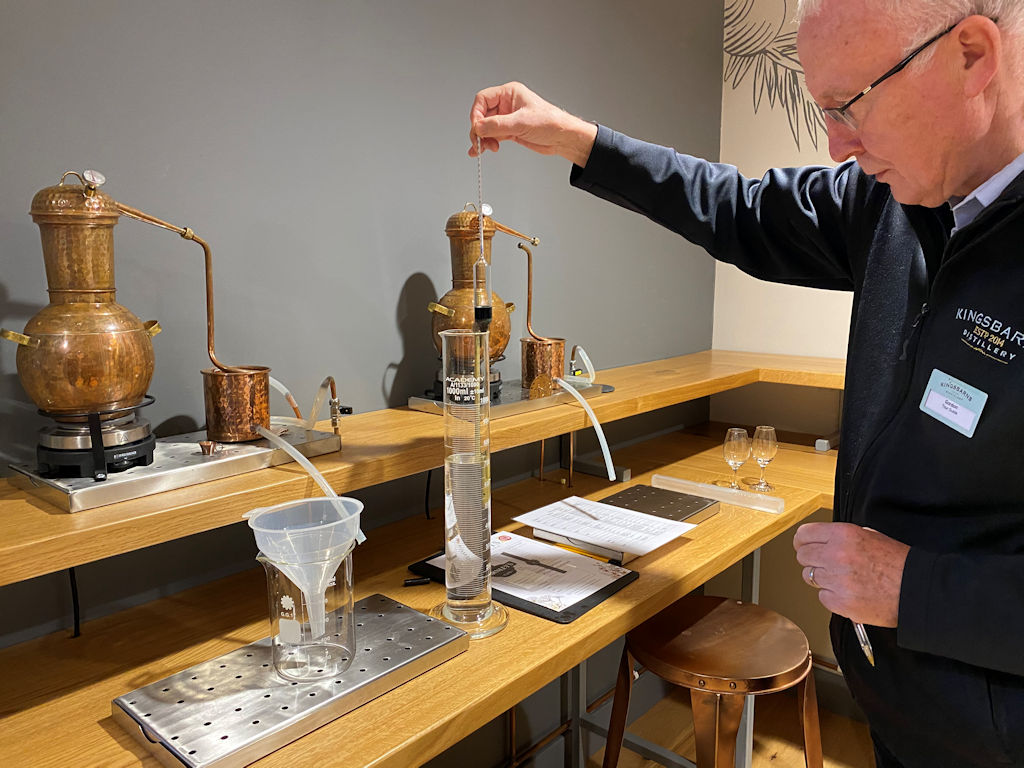 And then began our wee tour and tasting with Dot. We learned a little of the history of gin and nosed and tasted three expressions of Darnley's Gin before being introduced to their still and how gin is produced on a larger scale.
Meanwhile the temperature increased on our own distillation and the gin began to drip through, a wee taste and I was quite blown away at the depth of flavour! After one full hour, the last of the gin had made its journey through the vapour basket and cooled before dripping into the jug. A second tasting of the final drops had a surprisingly weak flavour. Gordon assured us the finished product would taste somewhere between our two tastings. Phew! The first being almost pure alcohol and the second, mostly water based.
View our video on Youtube to see the whole process from start to finish
And so began the decanting, bottling and label processes. And of course our gin expression had to be given a name! Many of our visitors to the Auld Post Office tasting room ask if we have our own expression! And Nicola coming over from Cyprus, with their speciality sweet treats Cyprus Delight, which is very similar to Turkish Delight, 'Delight' had to be included on the label!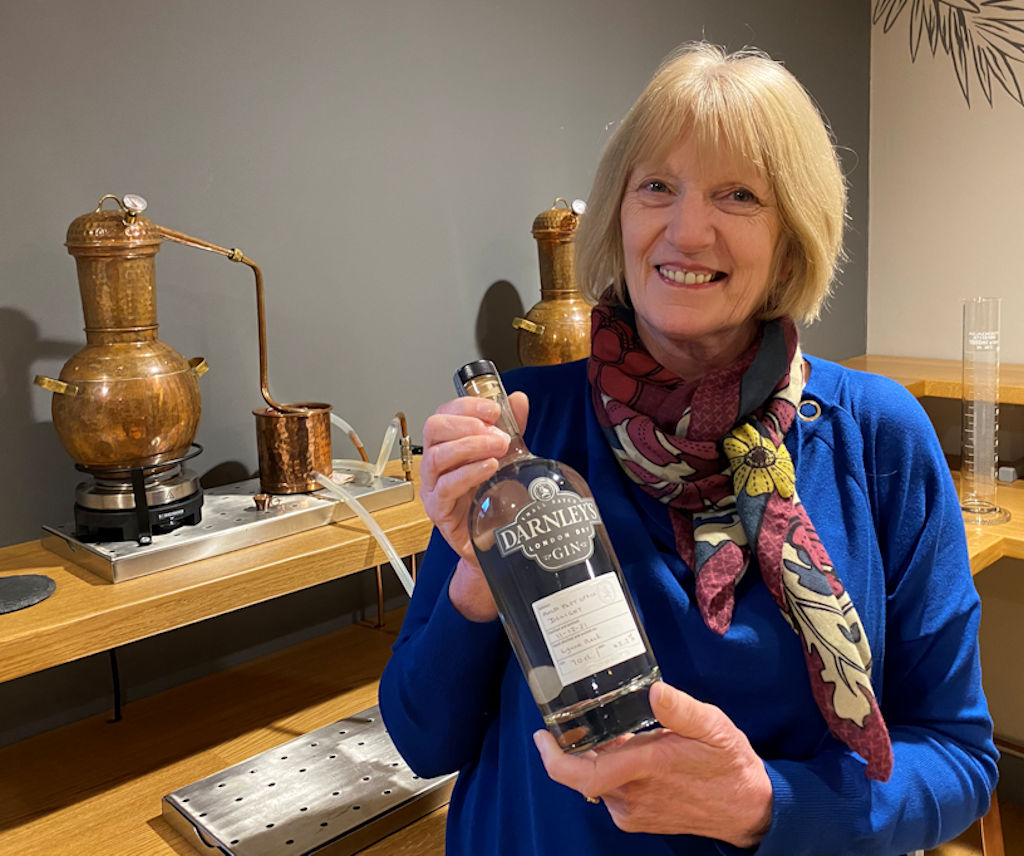 And so, Auld Post Office Delight is sealed and we're advised to wait at least a week before opening! We'll be home from the 'Only with Scotland's Best B&Bs' Autumn and Winter tour by then and ready to share with my husband Weyland at the Auld Post Office in time for a pre-Christmas celebration!