Some of Scotland's Best B&Bs offer evening meals as well as breakfast. Many make the most of local, seasonal produce, and have the 'Taste Our Best' award for their food. For those B&Bs which don't offer dinner, they can often recommend restaurants and pubs in the local area where you can get a good meal. Some B&Bs are happy to make table reservations for you - simply ask your hosts.
Aberdeenshire
Castleview Bed and Breakfast
This 4 Star GOLD B&B near Dufftown is in the heart of the Whisky and Castle Trails of north-east Scotland and close to the Cairngorms National Park. Set in beautifully landscaped gardens with a stream and summer house, this B&B enjoys a great view of nearby Auchindoun Castle. Castleview is ideal for holiday-makers interested in outdoor activities, golf, fishing, distilleries and castles. Choice of 2 ensuite rooms (double or twin). Evening meals are available by prior arrangement. Ian is a enthusiastic amateur chef who prides himself in using locally sourced produce for delicious home cooked meals. Selection of 1, 2 and 3 courses (see sample dinner menu).
Scottish Highlands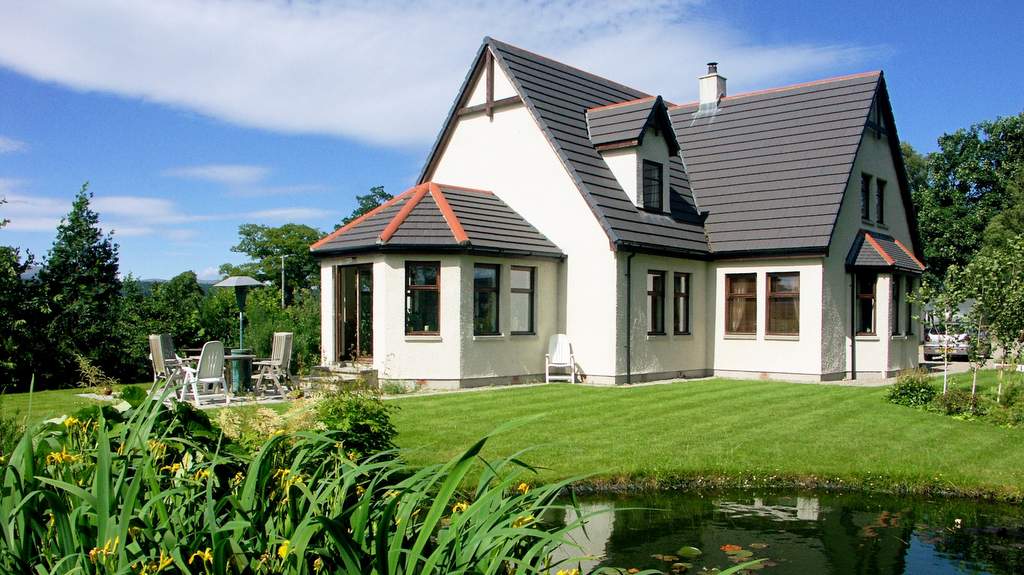 Home Farm
This 4 star Gold B&B on the Black Isle sits in an acre of landscaped gardens with views to the surrounding hills. Guests can relax in the garden room, the guest lounge or the garden itself. Only 20 minutes drive from Inverness, it is ideal for exploring Loch Ness, Glen Affric, Moray, the North Coast 500 and the Highlands. You can also go dolphin watching nearby. Choice of 3 guest rooms with double, twin and family sleeping arrangements. Breakfast is prepared by your hostess using eggs from her own hens. Dinners are available by arrangement featuring the finest meat and seafood including langoustines and scallops caught locally. Choose 2 or 3 courses (see sample menu).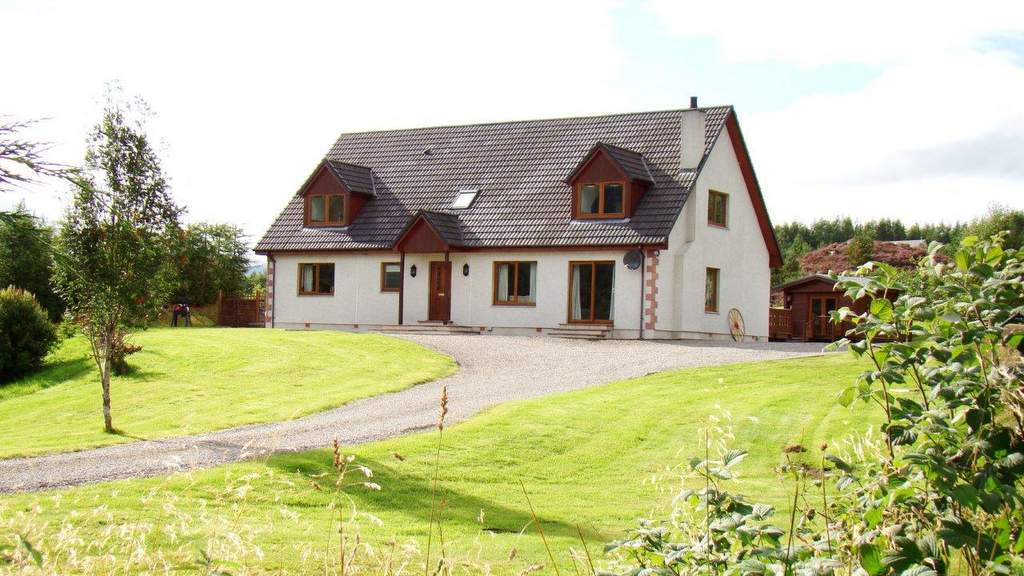 Binnilidh Mhor
This 4 Star B&B is situated in Glenmoriston near Loch Ness, half way between Inverness and the Isle of Skye. Set in its own grounds surrounded by open views and forests, it's perfect for hill walking or an ideal touring base. Choice of double/twin bedrooms or a large suite for 4 people. Evening meals (1, 2 or 3 courses) are available with prior notice. Taste our Best award.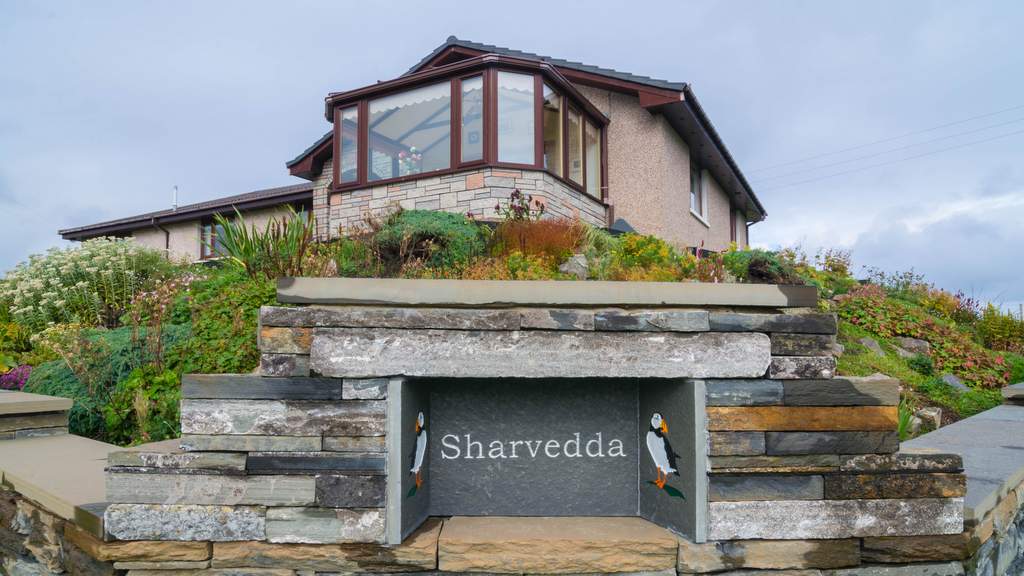 Sharvedda Bed & Breakfast
This 4 Star GOLD B&B is located in the far north of Sutherland on the spectacular North Coast 500. Sharvedda has panoramic views over Strathy Bay and is ideal for nature lovers and outdoor enthusiasts wanting a remote, tranquil getaway. Explore Sutherland's mountains and coast - see birds, marine wildlife, sea stacks, caves and beaches. Visit the Castle of Mey or take the ferry to Orkney. Choice of 2 guest bedrooms (1 double and 1 twin). Meals are served in the conservatory with views from Strathy Point to Dunnet Head and across the waters of the Pentland Firth to the Orkney Islands. Light evening meals are available by arrangement (homemade soup and a toastie with a side salad, plus homemade cakes and tea/coffee).
Perthshire
Glebe House
This 5 star GOLD renovated 1860 manse is set in its own secluded garden in the heart of the Perthshire conservation village of Dunning. From here you can easily explore the Perthshire glens, Perth, Stirling and the Kingdom of Fife taking in the numerous historic sites or golf courses. Two suites are available, each with its own private lounge, designer bedroom and hand crafted en-suite bath/shower room. Optional 2 or 3-course evening meals are served in the elegant, original dining room (see sample menus) or a light cold supper can be served in your own private lounge. Breakfasts and evening meals feature home-grown or locally sourced fruit and produce. Special packages can be booked for anniversary and birthday weekends with all inclusive treats. Traditional home-baked afternoon teas also available. Taste our Best award.
Scottish Borders
The School House B&B
This award-winning 5 Star Gold B&B near historic Jedburgh offers a choice of 2 rooms (double or twin). Guests are welcome to relax in the large garden with patios, a summer house and a rockery with a water feature. It is close to historic sites such as the Border abbeys and Floors Castle. The former Victorian School House has been thoughtfully converted and retains many period features. Breakfast is in the farmhouse style kitchen. Optional 3-course evening meals are served in the minstrel gallery dining area with antique furnishings, silver cutlery, crystal glassware and period table linen. Menus are sourced from local producers and reflect seasonal growing in the area (see sample menu).
Dumfries and Galloway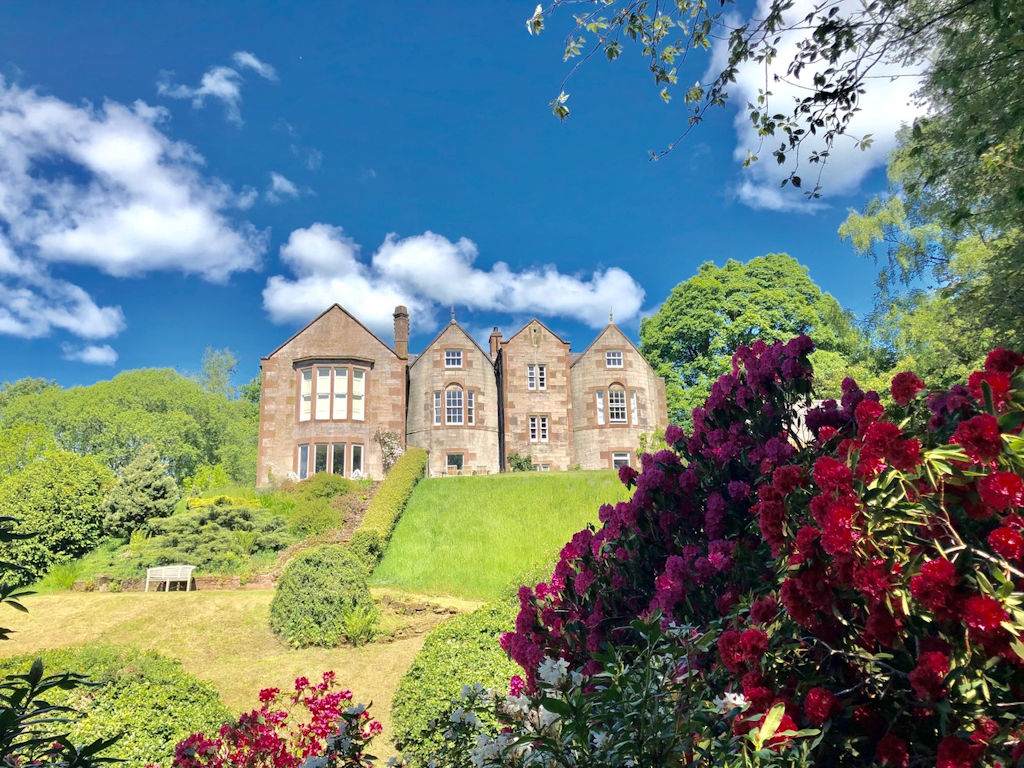 Nithbank Country Estate
5 Star luxury accommodation at Nithbank Country Estate in this secluded Scottish Country House just 14 miles from Dumfries. Shortlisted in the 2019 eviivo awards for 'Bed, Breakfast & Beyond'. Set in ancient woodland with river frontage and breath taking views, this is a peaceful retreat where you can also enjoy wildlife watching, field sports, fishing, golf, walking, cycling, mountain biking, distilleries, castles and the Galloway Forest Park. Supper is available by prior arrangement. Your hosts champion locally sourced, seasonal Scottish produce and support many talented local producers. Green Tourism Gold award and Biosphere Certification Mark from the Galloway and Southern Ayrshire UNESCO Biosphere for their commitment to sustainability. Taste our Best award.
Torbeckhill B&B
This 4 Star B&B (10 miles from Lockerbie) is set in 16 acres of grounds with spectacular views of the hills of South West Scotland and the Solway Firth, with the Lake District in the background. It is an ideal stopping off point if you are traveling North or South between England and Scotland with the M74 being just a few minutes away. Torbeckhill offers 2 bedrooms (double / twin) on the ground floor. As well as an extensive breakfast, guests can also enjoy a 2-course evening meal by prior arrangement.