Naomi McMahon has written this blog about being creative with breakfast menus for vegans. Naomi runs 5 Star Gold B&B Garvally House in Alloa, near Stirling.
A wonderful, well cooked and indulgent breakfast has always been an important part of any stay at a Bed and Breakfast. With many homemade or organic and locally sourced ingredients, we have always crafted our menus to suit our individual guest's preferences. In today's health and diet conscious world, we try to adapt our breakfast menus to give each of our guests the opportunity to have a choice of indulgent treats whatever their dietary requirements.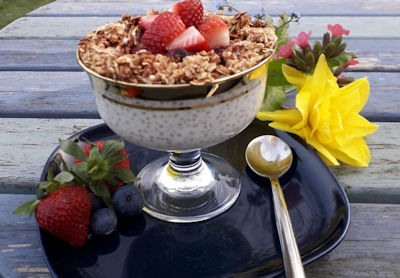 So many restaurants simply point to one item on the menu and say, "You can have that one, if we miss out the?" - fill in the question mark with your allergy. This is not our attitude - we want you to have a choice, to swither and be undecided because the options are so good. We can always create a menu around the dietary requirements or preferences of our guests. Whether they are gluten intolerant, egg or dairy free, vegetarian or vegan, we will find interesting and hopefully tempting options for each guest to choose from.
Smoothies have proved to be a popular addition to our menus for all guests. Whether it's the simple blueberry and banana, blended with apple juice, or the vivid green of the kale, mango, ginger and banana also blended with apple juice. These are just two of the options we offer.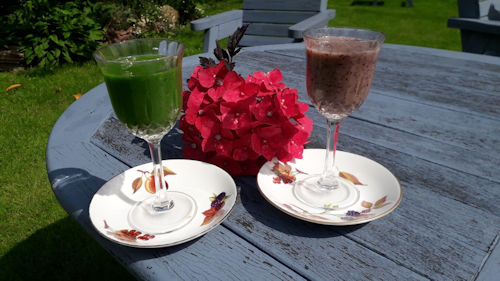 Oats are naturally gluten free, so porridge, muesli, granola and Bircher are all on offer to gluten intolerant guests.
Pancakes are an option that runs through most of our menus, as we can use gluten free flour, plant-based milk and can make lovely pancakes without egg. These can be served plain with caramelised banana and pineapple or with bacon and maple syrup. Alternatively they could be filled with blueberries and served with homemade yogurt and honey - such treats are always mouth-watering!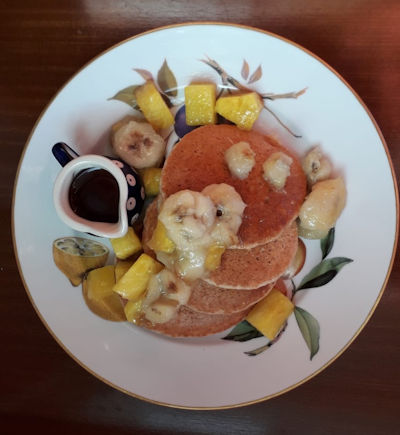 Sautéed mushroom and tomato served on toast with or without the addition of butterbeans is a delightful vegan breakfast, sometimes tempting those with no dietary preferences to try a different style of breakfast.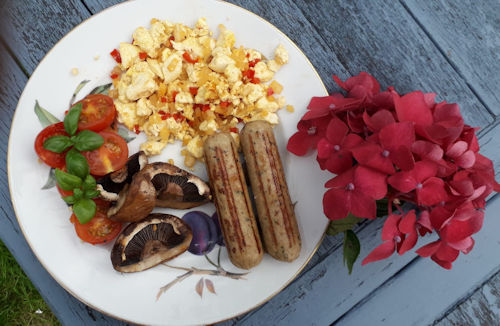 Scrambled tofu makes an excellent alternative to scrambled eggs. Silken tofu needs to be dried in a tea towel for 2-3 hours under the weight of a couple of books before it achieves the right consistency to crumble gently. A little turmeric and smoked paprika for colour and served with vegetarian sausages, tomato and mushroom and you have a lovely veggie option to a full cooked breakfast. Add vegetarian haggis and you have a Scottish version!
Our most popular breakfast for the last couple of years has been Avocado on Toasted Muffin with or without Poached Eggs, topped with finely chopped tomato and parsley.
Bon Appetit!
Photos and text by Naomi McMahon of Garvally House in Alloa, near Stirling. This 5 Star Gold B&B offers 3 luxury ensuite rooms and wonderful food. Ideal for visiting Edinburgh and Central Scotland.
BOOK NOW