Meet Patti Walker-Booth who runs Brae House - one of Scotland's Best B&Bs in Perthshire. Brae House is a 4 Star GOLD B&B in Aberfeldy where you can stay in one of 2 superking/twin ensuite bedrooms and enjoy delicious home cooked breakfasts.
What do you enjoy most about running your bed and breakfast?
I enjoy meeting the people that come from all over the world. I enjoy the freedom that this business gives me and also the independence of doing my own thing.
What is your favourite breakfast dish?
My favourite dish is scrambled eggs and smoked salmon served nicely on a plate with a lemon wedge and squeezer with attractive slices of (crust-less) toast on the side.
What is your favourite time of year?
I've been in Scotland for 10 years now and I think that Spring is my favourite time of year because the weather is invariably at its best then - it tends to rain in August. I also love Autumn though because of the colours. So both really, Spring and Autumn.

Wade's bridge at Aberfeldy
What is the "must see" in your area that you recommend to guests?
That would be the drive and walks going through Glen Lyon. It takes about 40 minutes to drive from here and it's lovely along Glen Lyon then past Ben Lawers, around the back with a view of the Loch Tay and then either left or right to Kenmore or Killin. There are plenty of places to stop and walk on the way and also a lovely café at the end of Glen Lyon called the Old Post Office. The scenery for this drive is just amazing.

Kenmore on Loch Tay - Glen Lyon - Schiehallion
What made you move to this place that you like?
It was an accident to come to Aberfeldy. My husband and I wanted to move closer to his father in Edinburgh and on our first visit we stopped in Dunkeld and I was really taken with the place. We rented there for a year and then found this house in Aberfeldy. I wanted to be in the country and I now love Aberfeldy, especially the Watermill Café and Bookshop and the rather unique Birks Cinema which I'm involved in running.
Any interesting stories of or from guests?
I had one guest who was an authority on odd bits of stone and mounds and their ancient history, including one mound between here and Glen Lyon where ancient soldiers left their sandals to be reclaimed from there when they returned.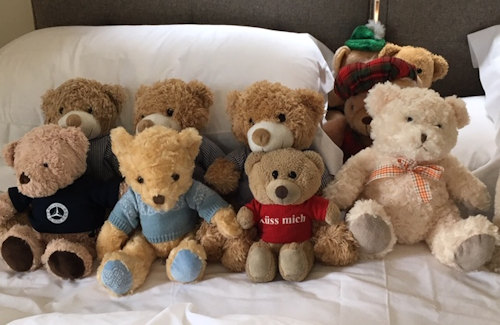 Also I have guests who come with their teddies; one couple from Germany bring 15 of their soft toys and line them up on the bed. Another pair of guests bring a couple of teddies and when I've cleaned the room each day I carefully put them in different places for the guests to spot. They love it!

Book online

Brae House in Aberfeldy
VisitScotland 4 Star GOLD B&B.
2 superking/twin ensuite bedrooms.
Panoramic views over the River Tay and the mountains beyond.
Explore scenic Perthshire and the Trossachs, as well as the rest of Central Scotland.
Prices from £59 per person (based on 2 sharing a room) including full breakfast.
Contact Patti Walker-Booth
Tel: 01887 820081 / 07889 186057