Many of Scotland's Best B&Bs make their own bread and in this blog, Naomi McMahon of Garvally House (5 Star GOLD B&B) in Alloa shares two of her favourite recipes.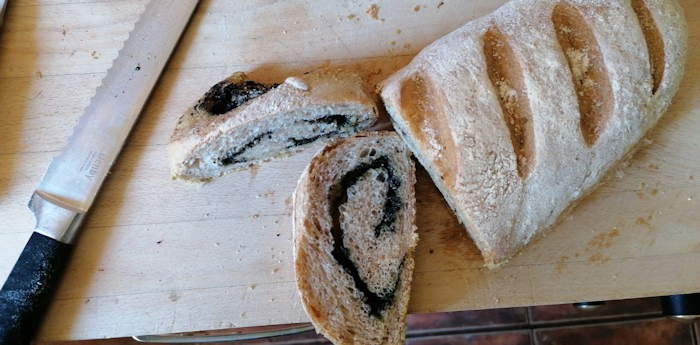 Black Olive Pesto Bread
When I have time, and during lockdown I have had plenty, I like to browse the shelves in the supermarket for new and interesting ingredients. That is why I had a jar of Black Olive Pesto sitting on a shelf. I'd bought it thinking it would be a nice change to stir some through some pasta, but so far this hadn't happened.
Like so many of my Scotland's Best B&B's colleagues, we bake bread in our breadmaker every day for our guests. Sometimes wholemeal, sometimes seeded, occasionally fruit. In lockdown we still bake bread, but only for our own use. An ideal opportunity to try a few experiments!
For this bread I used the Breadmaker's Dough function, using a standard recipe for the loaf:
400 g strong flour
7 g dried yeast
300 ml water
1 teaspoon salt
1 teaspoon sugar
1 teaspoon olive oil
I used wholemeal flour, but this recipe would work just as well for white or a 50/50 mix of wholemeal and white strong flours. Just follow the breadmaker's instructions for dough depending on the flour used.
When the dough had proved, around 3 hours for wholemeal, turn the dough out of the breadmaker pan onto a floured board. Gently roll into a rectangle, around 50cm x 25cm and spread the pesto quite generously over the surface of the dough leaving a very slight margin all around the edge.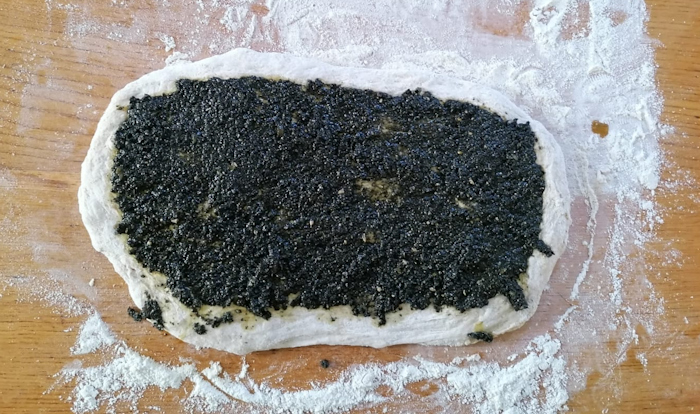 Gently roll up the dough to make a long 50 cm loaf, or as I did, cut the loaf in half to make two shorter loaves.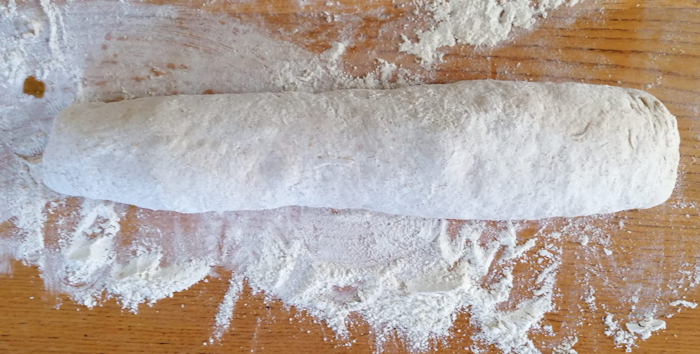 Gently lift onto a baking sheet and cut some slashes on the surface of the upper face of the loaves. Leave the dough to rise for a second time, until it has doubled in size. Bake in a preheated oven for 35-40 minutes.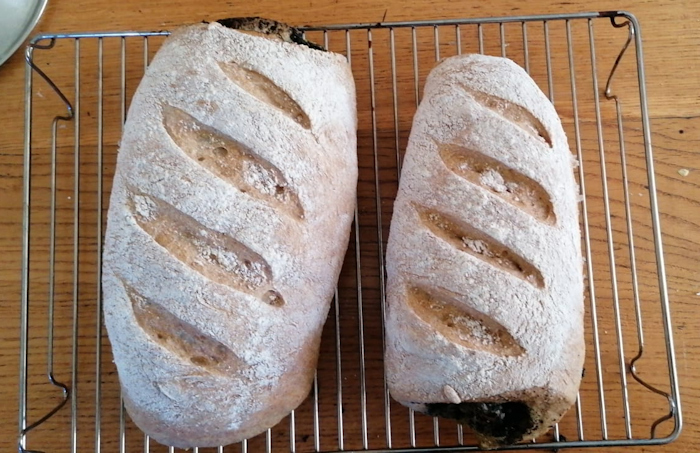 Perfect served warm with soup. We ate the whole of one loaf at a sitting!
Mediterranean Tear and Share Bread
I love this bread, perfect for a picnic or a leisurely lunch with family or friends. Using the Dough setting on your breadmaker gives you lots of flexibility about when you start creating this lovely bread. I've used 2 different flavours in this bread, Tomato and Basil and Tomato and Black Olive. However, use one or the other or create your own.
For the flavouring:
1 red onion
3 cloves garlic, optional
3 medium tomatoes
40 g black olives, halved
1 generous tablespoon chopped basil
To start, finally chop a red onion and saute gently in a tablespoon of olive oil over a low heat for 5 minutes. Add finally chopped garlic, I used 3 cloves. Continue to saute for a further minute or so, then add 3 finely chopped tomatoes, plum for preference. Contiue to saute for 2 or 3 minutes until the tomatoes are slightly softened. Turn off the heat and pour the mixture into a seive over a bowl to catch all the liquid. Gently press to release as much liquid as possible.
For the dough:
400 g strong flour, white, wholemeal or a mixture
7 g dried yeast
1 teaspoon salt
1 teaspoon sugar
1 tablespoon olive oil
1 teaspoon sundried tomato paste, optional
Place the dry ingredients in the pan of the breadmaker, take the tomato liquid which has drained from the sauteed vegetables and add the sundried tomato paste, if using, and make up to 300ml with water. Add this to the breadmaker pan and put into the breadmaker to mix.
When the dough is ready, around 3 hours later, tip the dough onto a heavily floured board, cut the dough into 2 equal parts, if using 2 flavours. Separate the vegetables into 2 equal parts, adding the olives to one half and the basil to the other. The vegetables are still quite wet, so be prepared to add quite a lot of extra flour to each half as you mix. Make a well in each dough and gradually incorporate the vegetable mixture into the dough, adding more flour if you need to.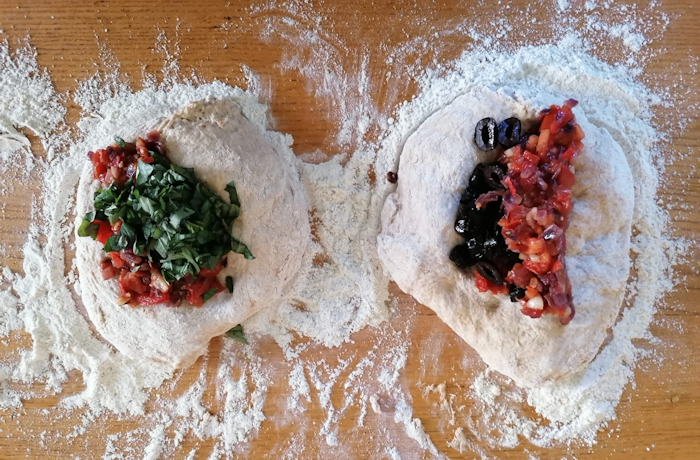 When the vegetables are well mixed through, form the dough into 2 round shapes and cut in half, cut each half again and then again, so you end up with 8 misshapes.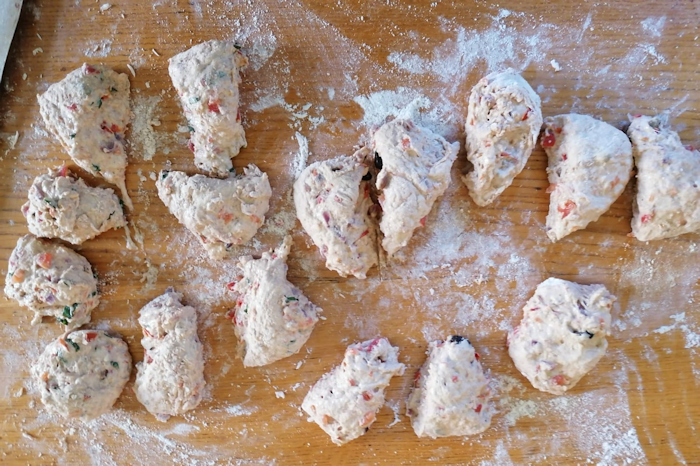 With floured hands gently form each piece into a ball and arrange on a floured baking sheet, leave to rise for around 40 minutes or till the rolls have all doubled in size and then bake in a preheated oven for 40 minutes.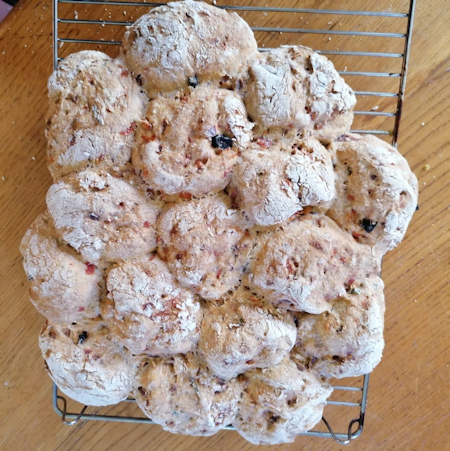 Delicious on their own, or dipped in olive oil or balsamic vinegar.
5 Star GOLD Garvally House is just 6 miles from historic Stirling and is ideal for visiting Edinburgh, Stirling, Perthshire, Fife and the rest of central Scotland. Simply book online with Naomi at Garvally House for 5% discount for direct booking. Choice of 3 luxury ensuite rooms and wonderful food!