This week's blog is written by Reta Maclellan, a former member of Scotland's Best B&Bs and more formerly a Visit Scotland Quality Advisor, who is off enjoying her retirement by exploring Scotland. Here Reta shares her recent walk along the West Highland Way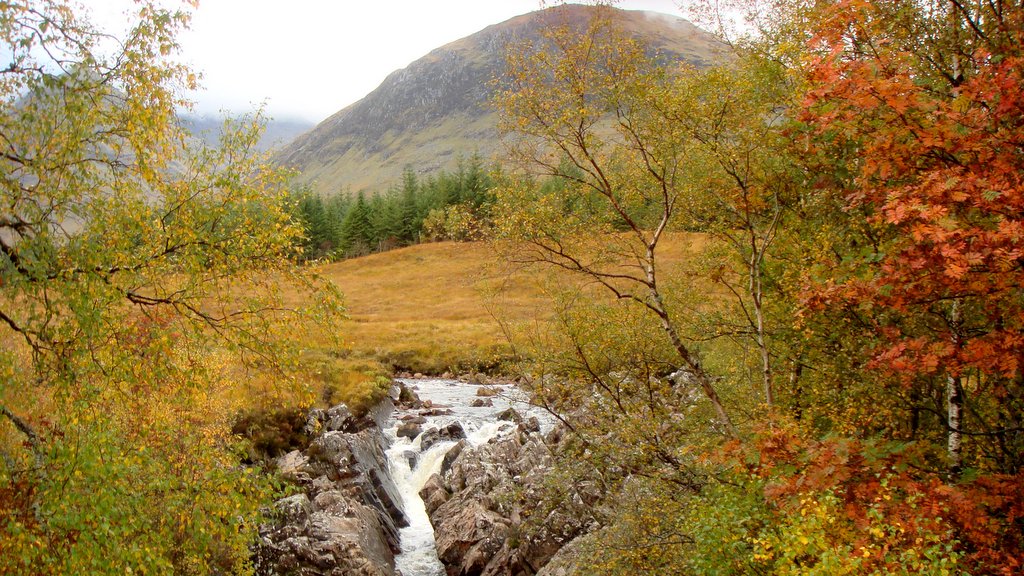 The West Highland Way is Scotland's first long distance route and a group of us optimistic fit pensioners tackled the challenge one autumn. We marvelled at the high canopies and carpets of bright gold, red and orange leaves and no midges. New England in the fall had a real stay-cation contender.
On day one some of us had opened the Compeed box of blister protectors, day two ended with stiff backs and hot baths and from day three onwards we were happy seasoned walkers.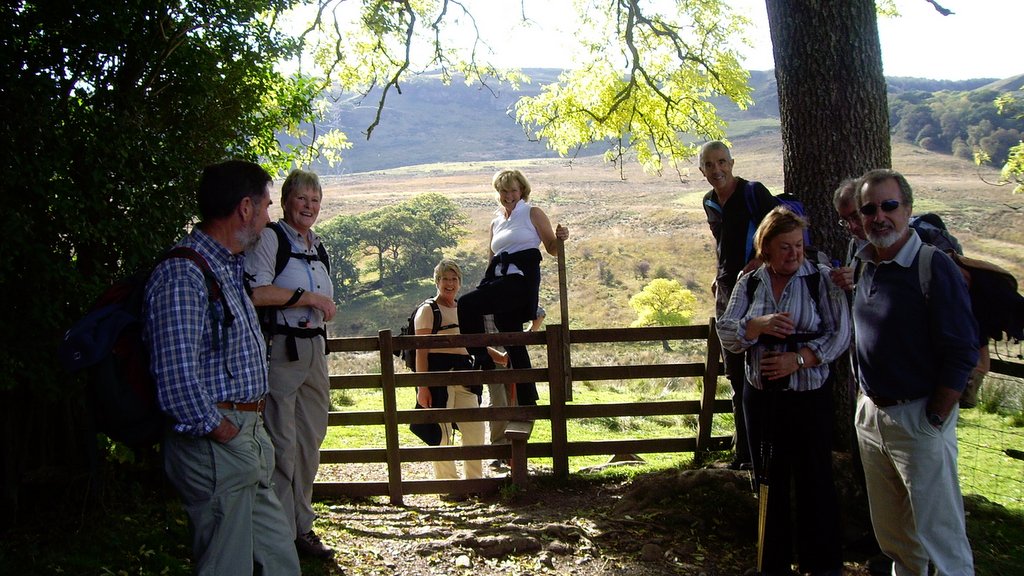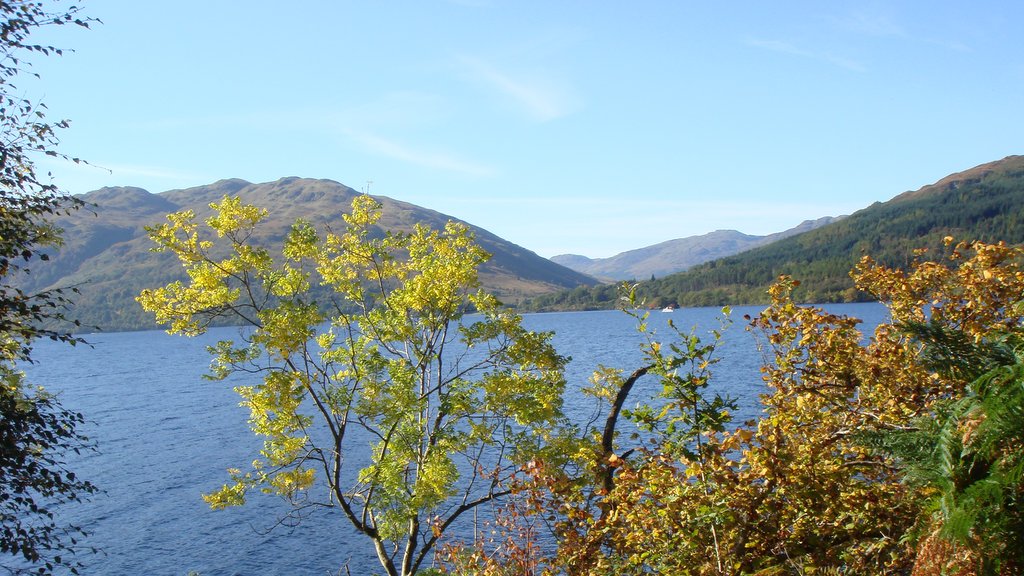 The sky was bright blue when we strolled into Balmaha. Loch Lomond looked highly polished so that the detail of the yachts' rigging in the small bay could be clearly seen in the reflection. Then the lochside section from Inversnaid to Ardlui and Inverarnan was really testing. It was eyes on our boots as we jumped streams, stepped over slippery tree roots and held our breath when the path had steep drops to the water. Some of us detoured to scramble over rocks into Rob Roy's cave which would certainly have given him dry cover, with an excellent view, but no sensible cow would follow her drover on this rocky route, even if he was famous.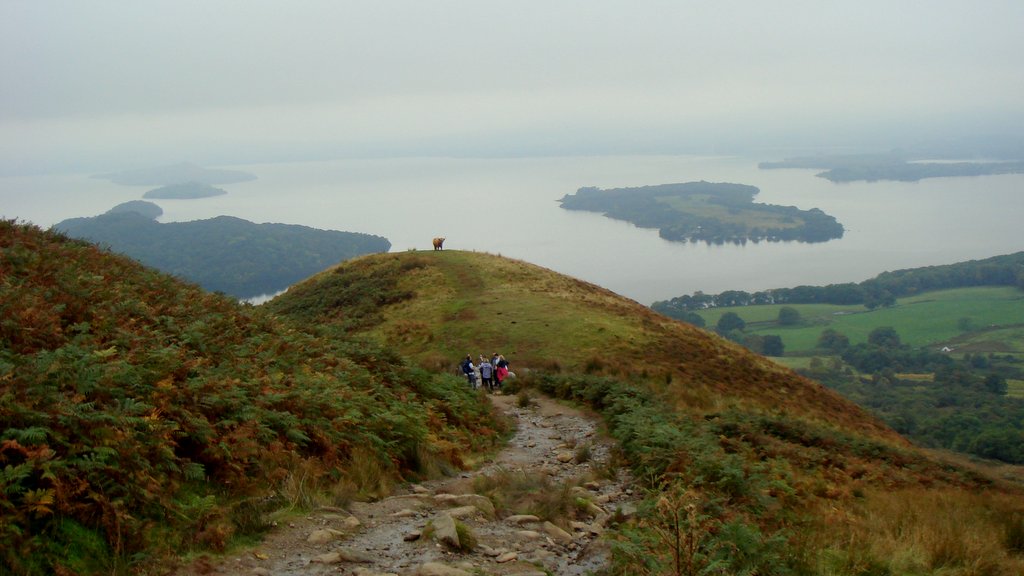 We set off from Tyndrum to Kingshouse in a light drizzle which disappeared by noon. The route was easy and well defined but the challenge that day was distance, roughly 20 miles. At Bridge of Orchy, we felt lucky, the Hogwart's Express had rolled into the station, steam puffing from its chimney. Another photo shoot moment and a sandwich lunch beside the river before entering the vast wilderness of the Rannock Moor. The final push of that day along the River Etive with the louring mass of Buachaille Etive Mor, 'Great Shepherd of Etive', on our left, some 1011 metres high. An icing sugar dusting reaffirmed my wish to reach the top one day, but not today. The King's House Hotel was getting closer and like horses to the stable, we found new energy. We eased off our boots outside the bar and I downed a half-pint shandy so fast that when I walked to the bar to get a second one, I heard lapping sounds in my stomach! The switched on landlady, had put a massaging foot bath in each bedroom and produced a massive evening meal.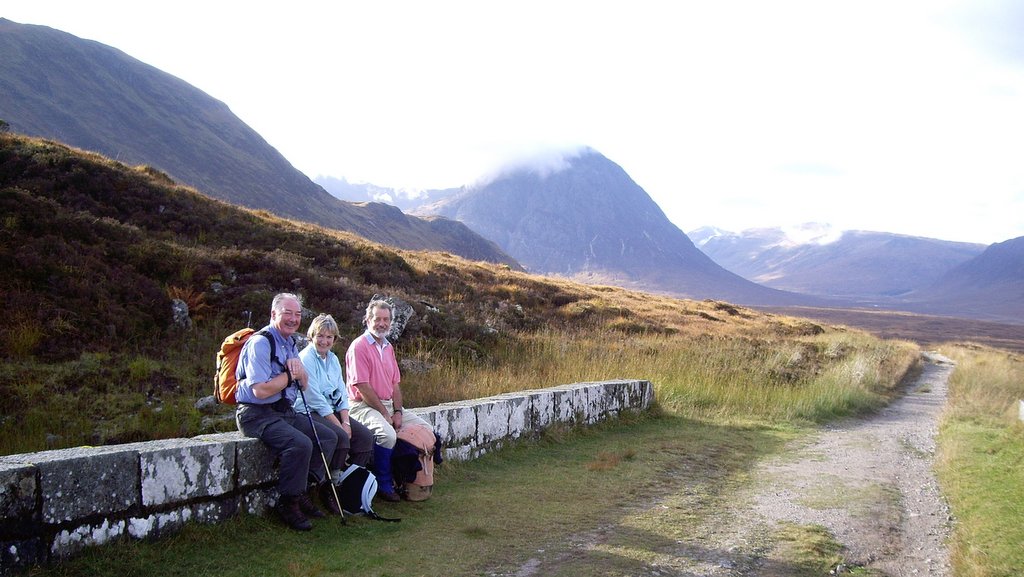 After making a bold attempt at finishing one of Elsie's double-up breakfasts, two sausages, two eggs, etc., we tackled the Devil's Staircase at a steady dogged pace, to the highest point and a lunch stop. With binoculars we sat watching stags roaring and strutting keeping a guard on their hinds while they grazed and we ate our sandwiches. On the long descent down to sea level and Kinlochleven I was reminded of my official visit to a B&B there. My landlady put the key in the door of one bedroom and said, 'Don't get up Jimmie, it's just the woman from the Scottish Tourist Board to see the bedrooms'.
A Golden eagle wheeled overhead in the valley before the final woodland descent on the long last leg of our journey into Fort William. Weary and happy we had our photo taken at the official end of trail sign, and congratulated each other with a champagne toast, adding 'Here's to the next walk'.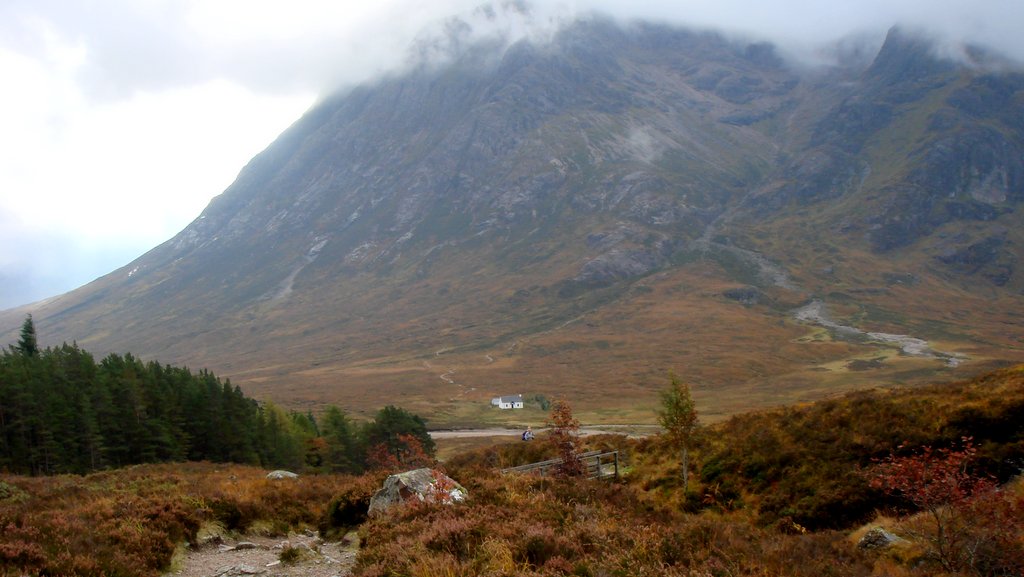 This route shows Scotland's scenery at its best, rugged, majestic mountains, the sweep of wilderness moorland, shards of sunlight in the great old woodlands, waterfalls, lochs, and wildlife.
Each season brings its own delights, in sun drenched pathways, wind driven waves on the lochans, wildflowers, berries, changing colours in the landscape and sky and at the end of each day welcoming hosts, great food and a local dram.
You can learn more about The West Highland Way and other parts of the Highlands by visiting the many interest pages on our website including Highland Wildlife, Highland Castles, Highland Historic Sites