At 1468 feet, the Fyrish Monument stands atop Fyrish Hill and can be seen from the A9 near Evanton, whilst driving the east coast section of the North Coast 500 route in the Scottish Highlands.
You can park for free at the Novar Estate car park. Set off on the Jubilee Path to reach the Monument on a two-mile uphill trek through the tall pine forest, crossing a footbridge and many uneven stone steps.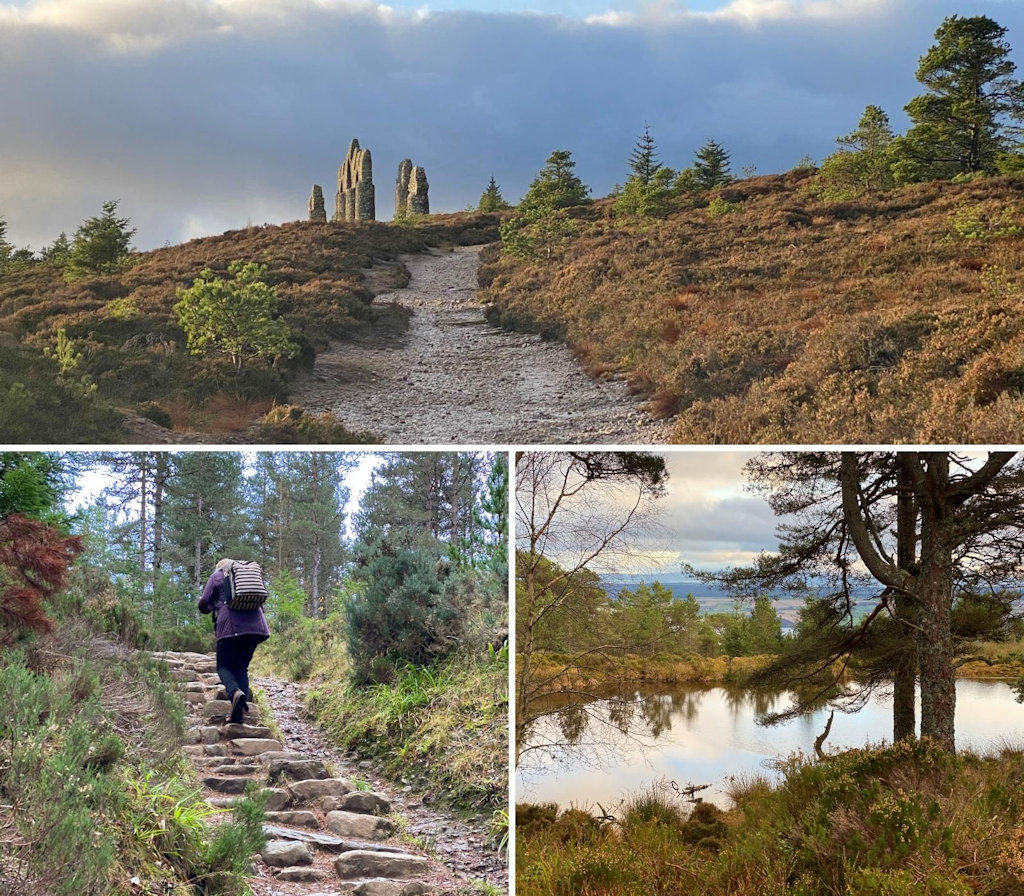 If time allows and the weather is kind, it is a super enjoyable hike, and the feeling when the folly finally comes into sight is one of immense achievement, amazement and pure delight. A moment to catch your breath and pull out the camera - well done you're almost there!
Just a few more paces and you're really there, not knowing which way to dart to capture the best shots through the arches. Standing far back to capture the entire monument, it really is a photographer's dream. In November 2021, we were fortunate on our mission to have moody skies with bright sunlight low in the sky about an hour before sunset.
Allow at least 2.5 hours, about an hour to climb, and a good half hour at the top to recover, rejoice and recuperate!
With spectacular views over the Cromarty Firth to one side and Ben Wyvis to the other.
A little about the Monument.... It was built in 1782 under the orders of Sir Hector Munro, 8th Earl of Novar, in the form of three battlemented arches with ruin pillars on either side and a central pillar, almost identical to the original structure far away near Madras, now Chennai.
Sir Hector Munro served 12 years for the British Army in India, and as a General led the battle to seize Madras from the Dutch. The entrance to the State is marked by the similar structure known as the Gates at Negapatam. Returning to his homeland on the Novar Estate, Sir Hector created employment for the many starving families, having suffered eviction from their homes during the Highland Clearances. At that time, it would have been unseemly to provide an income without employment.
And so, for one penny per day, it would have been hard labour to carry the stones to the top of the hill and erect the monument that we are able to enjoy today.
There are two further structures to explore if you have the time. The first at Creag Ruadh is about half an hour walk down the hill. A little further still at Meann Chnoc, a structure known as Little Fyrish can be seen, although obscured by dense woodland, you'll likely need a map to locate it. Either take the steep climb back up the hill or fathom your way down to return to the car park at the foot of the Novar Estate.
Photos and videos were taken in November 2021.
Stay with Scotland's Best B&Bs nearby:
White Rose Tower near Invergordon
Home Farm Bed and Breakfast at Muir of Ord
Inverness House in Inverness