Escape to the city of Edinburgh for a winter wellbeing break with Scotland's Best B&Bs...
Lynne and Nicola explored the city in December 2021 on their Tour - Only with Scotland's Best B&Bs (see full blog).
Our short break to the capital city of Scotland during the winter began with a self guided tour on the Royal Yacht Britannia which was previously owned by H.M. Queen Elizabeth II. In service from 1954 to 1997, the Yacht sailed more than a million miles around the globe. Tickets are timed for the five deck yacht tour to enable social distancing for all to enjoy. Amble at your leisure to admire the luxury and yet simplicity of the Royal quarters. Space is limited on a yacht and the Queen is never one to be too ostentatious, preferring comfort and quality over opulence. If time allows, enjoy Afternoon Tea on the upper deck.
The Royal Yacht Britannia is berthed at Leith alongside the Ocean Terminal shopping centre which has a multi-storey car park with free parking. Frequent buses run from the city centre including the hop-on hop-off tour buses which take you on a circular route around the sights.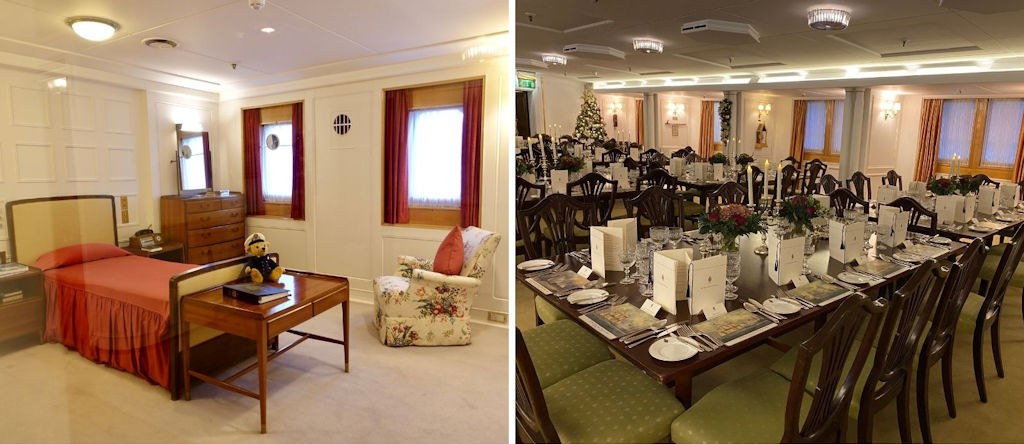 We arrived at The Town House in Edinburgh for our two night short stay. Three nights would have given us a little more time to explore so you may prefer to stay longer. Free parking behind the church at this former manse, just a twenty minute walk from the city centre.
An Uber taxi took us to the Royal Botanic Garden Edinburgh for the pre-ticketed Christmas Light show. Again timing in place to ensure no crowds gathered. Mesmerising, enchanting and calming in a way you feel at one with nature, while listening to opera and carol singing as the lights dance before you, on the gentle stroll around the gardens. Just as you think the show is over, you realise you're only two thirds through, and the lights dance before you once again. Everyone is smiling, the show is truly joyous. The Botanical Garden Shop is open for tasteful gifts and luxury treats.
A dinner reservation on Fingal, the 'sister' yacht to Royal Britannia was calling, fine dining on board, and a real treat to enjoy wine since neither of us were driving. A wee cocktail to follow to end the most perfect evening. The staff are attentive and chatty and so proud of their environment, we were invited to view the Bridge and the Engine Room and ventured off at our leisure. Pure bliss and such fun.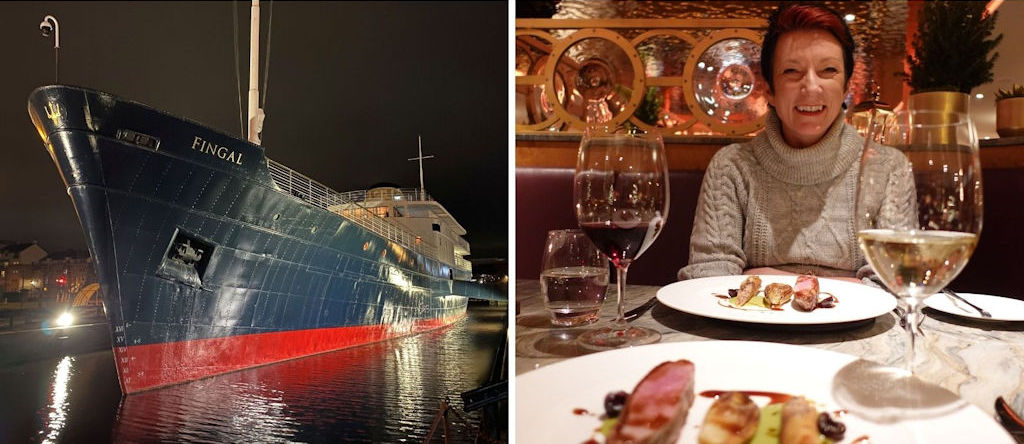 Sleep was calling followed by a leisurely breakfast chatting to Susan and Robert at our B&B. They have welcomed guests to their comfortable, elegant home for more than forty years. It's quiet and calm and restful and a very easy place to unwind.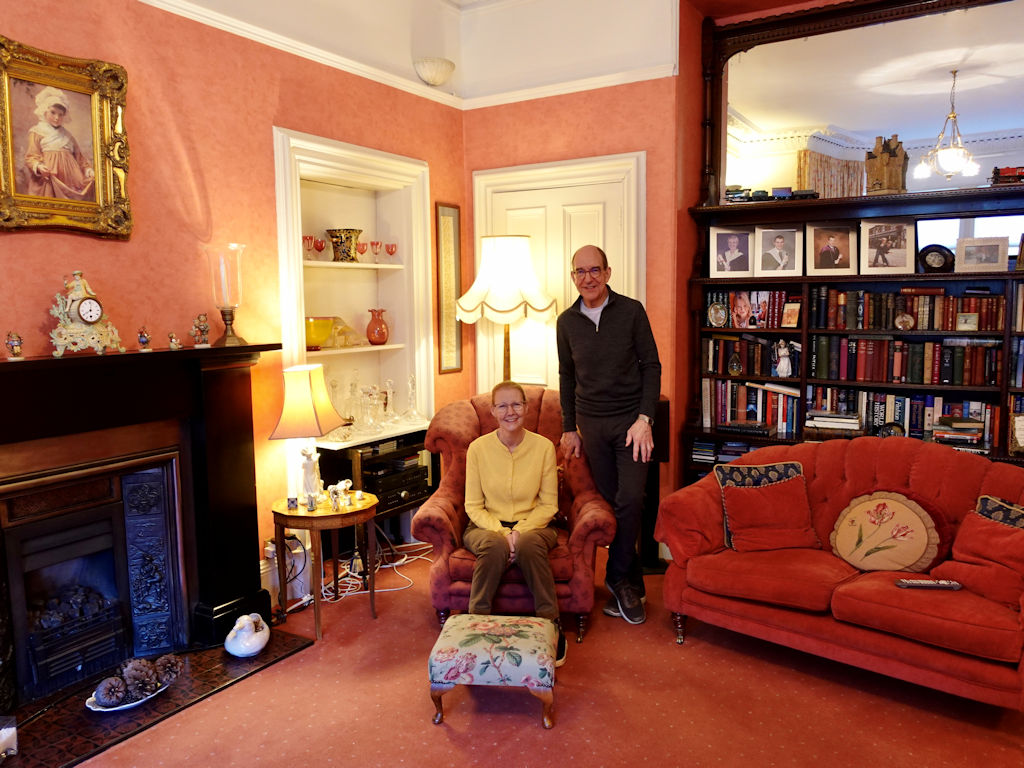 Our next jaunt was a morning Tour of the Underground vaults by Auld Reekie Tours. Andrew, our guide is an actor, with no inhibitions as he theatrically told stories of the ghoulish past of Edinburgh, he had the dozen or so of us laughing out loud and spookily scared at the same time! The group bonded in such a short time, pure joy.
A little time to enjoy the Christmas markets, mulled wine and hot street food, among the not so crowded mid-week festivities. Time too to explore a little of Edinburgh's architecture as we stumbled upon the Writers' Museum at the Lawnmarket, in Lady Stair's Close. The museum is dedicated to the lives and works of the three greats of Scottish Literature, Robert Burns, Sir Walter Scott and Robert Louis Stevenson. Edinburgh is the UNESCO City of Literature.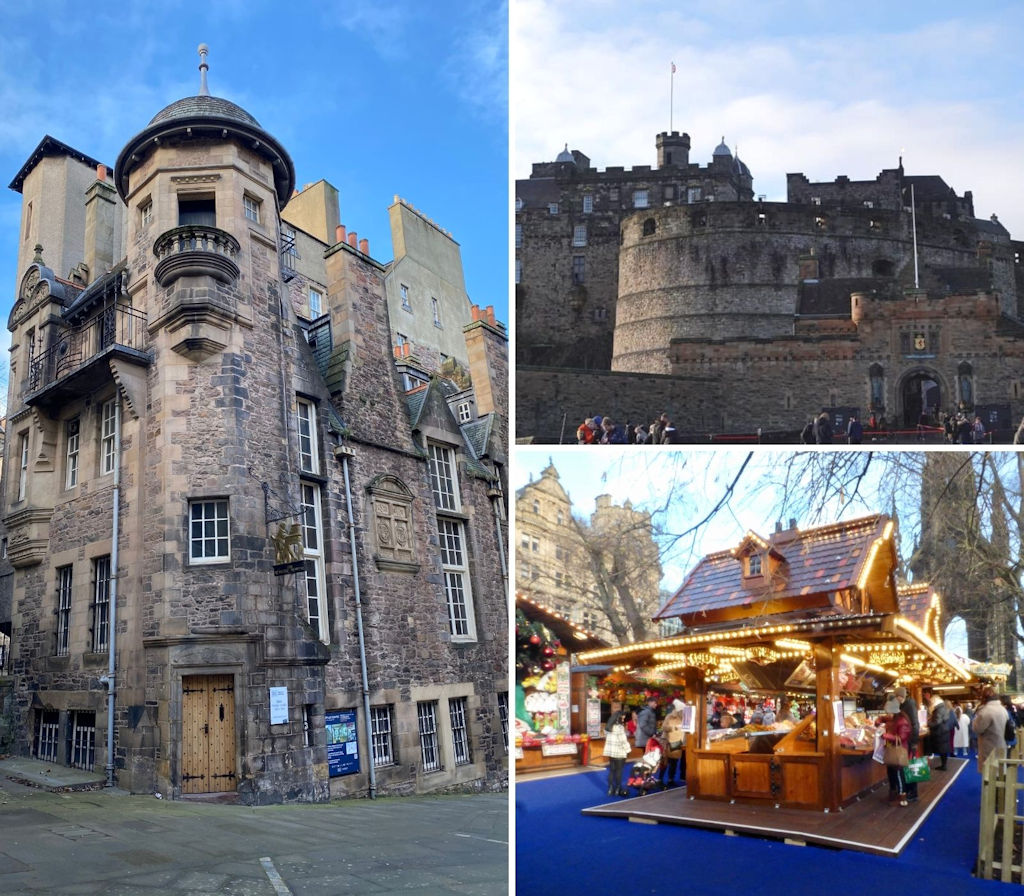 Our afternoon treat took us to the Thai Castle Spa on Castle Street, for an embracing massage, I envisaged one of relaxation and hadn't reckoned on the pummelling and stretching techniques that took place. Both invigorating and therapeutic and likely just what the doctor would order to relieve my aches and pains. The aroma of essential oils left us in a heavenly dream as we ventured on.
Relaxed now to enjoy an early dinner at a busy Mash bar! Good food with every kind of mash imaginable! Phew... Feeling replenished and ready for our hike to the top of Edinburgh for an evening stroll at the Castle when the heavens opened! Our Castle visit was cut rather short, when a bar was calling with joys of Festive mulled wine and a wee dram to end another super day sight-seeing and enjoying life in the city.
Our Top Tips
Pre-book tickets and make reservations for everything you wish to do and see and to enjoy fine-dining.
Check out the offers on all the hop-on hop-off tour buses - they can save you a lot of walking up and down, and you might also get discounts on certain attractions.
Book your accommodation early if you are visiting in the busy summer months, at Christmas/New Year or during Rugby weekends.
Be sure to stay with Scotland's Best B&Bs for quality assured accommodation with a warm welcome and help from our hosts to ensure you get the best out of your time in Edinburgh.
Learn more
To discover more about the city, visit our Edinburgh pages on Attractions - Gardens - Historic Sites - Museums - Whisky - Wildlife