On 25th January every year Scottish people all over the world celebrate the birth of their most famous poet, Robert Burns. Born in Alloway, Ayrshire in 1759, Burns was celebrated in his own lifetime for his poetry and songs and the influence he had on his contemporaries. In the years since his death, Burns' poetry has reached right round the world....whether you realise it or not you are singing a Burns poem every New Year's Eve when you join hands to sing 'Auld Lang Syne'
Celebrating Burns Night is becoming more and more popular outside of Scotland....you don't have to 'be' Scottish or even know anyone Scottish to join in!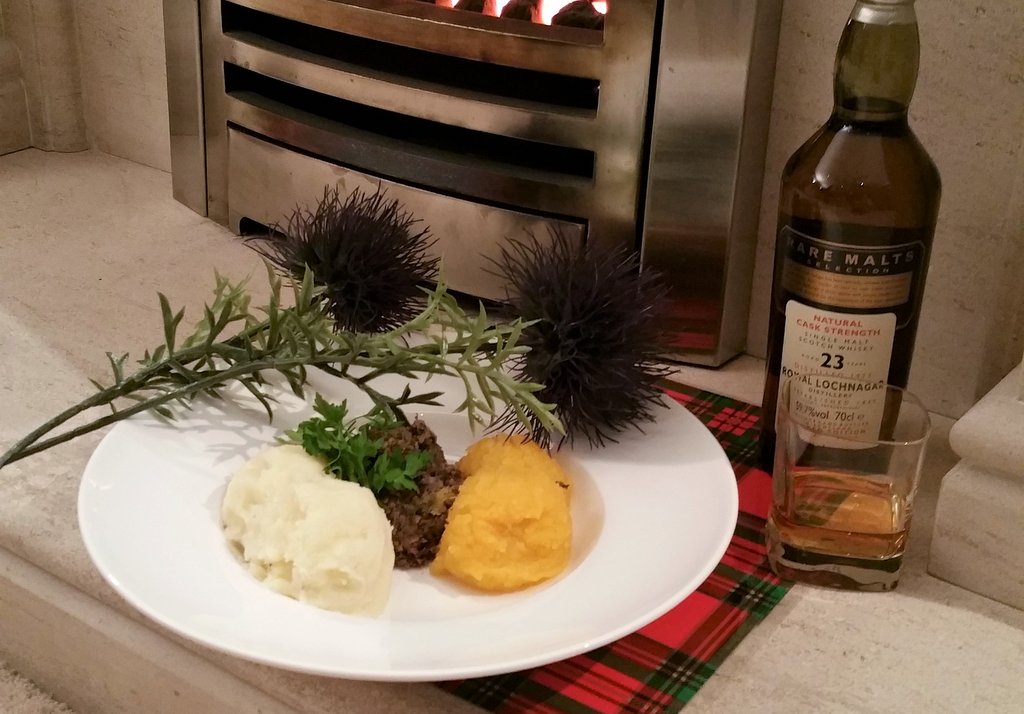 Traditional Burns Supper
500g of Large White Potatoes
500g of Turnip/Swede/Rutabega
1. Depending on the sort of Haggis you have bought (ie 'traditional in natural casings' or 'easy cook' version) you will need to consider how to cook it. Traditional haggis should be cooked in water on a gentle simmer....timings will differ according to size. Modern versions can be cooked in minutes in the microwave
2. Peel the Neeps (Turnip/Swede) and the Tatties (Potatoes), then chop into small chunks and boil separately in lightly salted water. Swede can be particularly stubborn so smaller chunks are recommended. Once they are soft to the pressure of a fork, drain and mash with cream and butter to taste and a little bit of seasoning with Salt and Pepper.
3. When everything is ready, serve.....but only once you have piped in and addressed your haggis!
If you want to make your Burns supper extra special, add a ladle of Whisky Sauce.
Whisky Sauce
Scottish Whisky - How much? You decide!
Chopped Parsley and Rosemary to garnish
Haggis, Neeps and Tatties with Whisky Sauce served in a 'stack'
1. The trick with Whisky sauce is to burn off the alcohol at the beginning to avoid your sauce being too bitter. So start with a hot pan and pour in the whisky (recommend 3-4 teaspoons, but you decide!). Now light the sauce and burn off the alcohol....carefully
2. Now gradually add the cream, stirring all the time
4. Continue to stir over a gentle heat until the sauce has thickened. Add salt and pepper to taste
5. Drizzle over your Haggis, Neeps and Tattie and garnish
And if you don't have your own piper, or can't get your tongue round the Burns poem, just play ours here provided by our B&B Northlands in Pitlochry
And last but not least, you need plenty of Scotch Whisky to accompany your supper and ensure you are in good voice.
If you would like to learn more about Robert Burns
then you must visit the Burns Birthplace Museum and other Burns related sites in Ayrshire. You can immerse yourself in the landscape that inspired such a great man. Visit our website to learn more about this part of Scotland and find some wonderful places to stay
And here is our B&B owner, Gordon Bulloch from
The Dulaig
in Grantown on Spey, signing off with a recitation of the Burns poem 'Holy Willies Prayer' at a Burns Supper last year
Happy Burns Night! Slainte Mhath