For many it is a pilgrimage; a journey to play where it all started and sample the history and heritage that comes with a round on The Old Course St Andrews or Prestwick or to sample the wonderful courses designed by James Braid or Old Tom Morris.
Scotland - The Birthplace of the Open Championship
Not just the birthplace but for many the only place to watch an Open Championship. In Scotland you can walk in the footsteps of champions present and past at The Old Course, Muirfield, Carnoustie, Ailsa Turnberry, Royal Troon and the course where it all teed off Prestwick. Are there any better reasons for choosing Scotland for your golfing vacation?
The Scottish Open: 12 - 15 July 2018 at Gullane Golf Club, East Lothian
The Open Golf Championships: 19 - 22 July 2018 at Carnoustie, Angus
The Ladies Scottish Open: 26 - 29 July 2018 at Gullane Golf Club, East Lothian
The European Championship: 2 - 12 August 2018 at Gleneagles, Perthshire
The Alfred Dunhill Links Championship (where professionals and amateurs play in teams of two) will play on several courses culminating at St Andrews from 4 to 7 October 2018
For 2019, the Solheim Cup will take place at Gleneagles in Perthshire from 11 to 15 September.
Scotland's Classic Links Golf Challenges
It's not just Open Championship courses that make up a golfing itinerary to Scotland. All round the coast there are classic links courses set by the sea and in sandy dunes. Western Gailes, Cruden Bay, Royal Dornoch and Gullane may be three of the best know but every area in Scotland has its share for golfers of all abilities and for all budgets. Links golf is for many the game in its purest form and Scotland has seaside courses to spare.
Scotland's World Class Hospitality
Every traveller has a different take on what constitutes good hospitality and the strength of a golfing holiday in Scotland is the breadth and depth of the service and welcome that comes with a tour of the country. From knowledgeable caddies and chauffeurs to five star resorts or private hire castles to traditional guest houses the welcome is legendary.
Speak to your host when you book and they can help you organise the perfect golfing break
Golf in Aberdeen, Grampian and Moray
Golf in Argyll, The Isles, Loch Lomond, Stirling and The Forth Valley
Golf in Edinburgh and Lothians
Golf in Glasgow, The Clyde Valley and Lanarkshire
Golf in The Highlands and Isle of Skye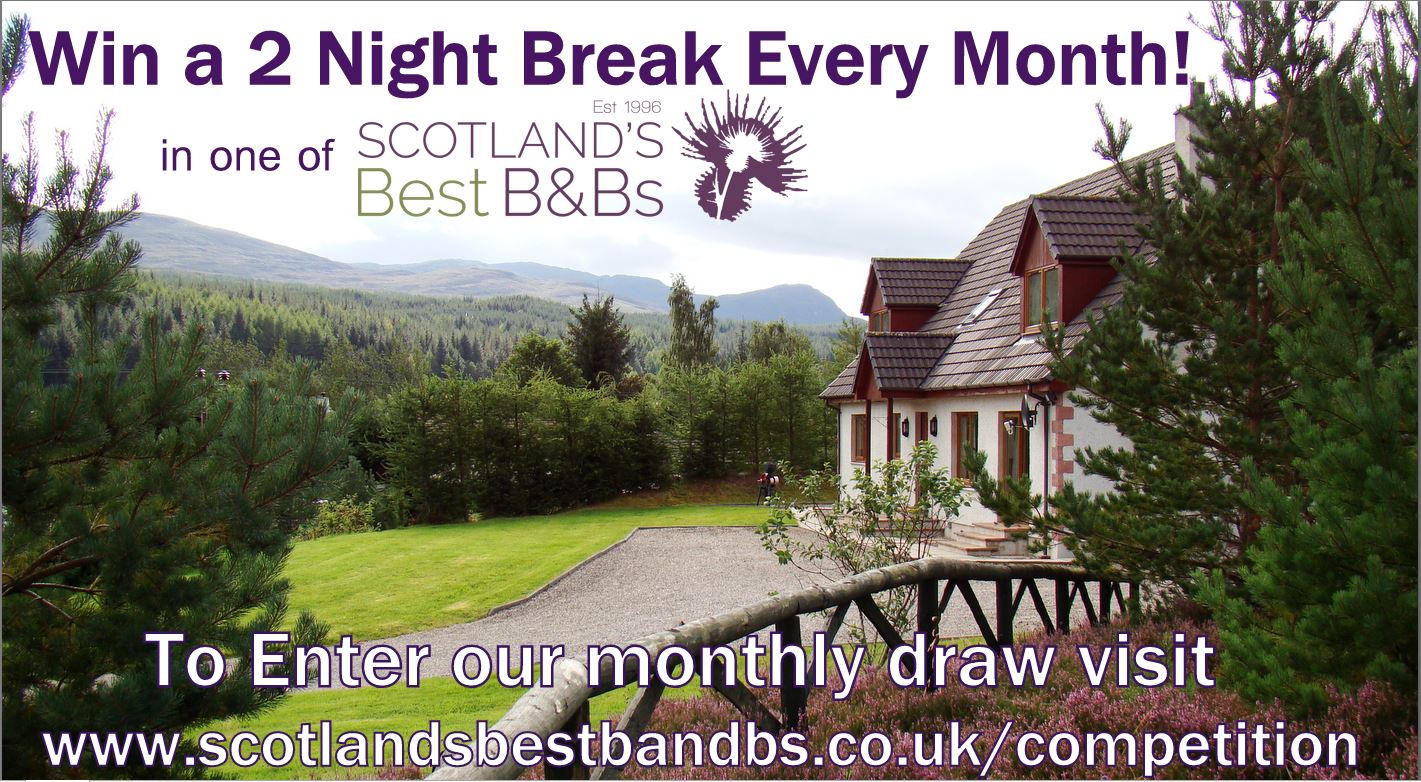 Argyll, the Isles, Loch Lomond & Stirling
Whilst a large part of the terrain in this part of Scotland does not lend itself to the creation of golf courses, when it does, they are truly stunning. Whether they are nestled amongst mountains and lochs, or in the shadows of castles, you can find some truly beautiful and iconic courses here.
Machrihanish Dunes
Not to be confused with its more manicured neighbour, Machrihanich Dunes boasts a golfing experience as close to the original game as you can get. Using the government protected dunes of the Kintyre Peninsula, the course is natural and wild, not least because of the battering wind off the sea. Fans of 'extreme golf' will love this course.
The Carrick
Golfing along the banks of Loch Lomond was, until recently, an exclusive affair with the Loch Lomond Golf Club closed to everyone but their members. But since the arrival of The Carrick at Cameron House in 2007, anyone can now experience playing in one of Scotland's most iconic locations. The first 9 holes are played along the banks of the loch with the other 9 weaving their way up the Highland heath. Open all year round and particularly stunning when the snow caps the mountains.
Stirling Golf Club
What could be better than playing golf in the shadow of Stirling Castle, on ground which was used for sport by Kings and Queens for centuries? It may not have hosted some of the illustrious championships of the famous Scottish courses, but it more than makes up for it in its unique and historical location. Open all year round to visitors.
Glasgow & The Clyde Valley
Perhaps not the first stop for golfers visiting Scotland, but Glasgow and the Clyde Valley does actually provide a wide selection of interesting and varied courses. With a vast percentage of the population living in the central belt, the demand for quality local courses is extremely high. Fortunately the absence of 'celebrity' courses means you are more likely to get a game if you are visiting the area for business or pleasure.
Lanark
Just 30 minutes south east of Glasgow is another of the worlds oldest Golf Clubs, Lanark. Founded in 1851, Lanark is the 25th oldest course in the world and continues to provide a testing game even today. Formerly an Open Championship qualifying course, it would be a mistake to assume that this now little known course is going to be an easy ride. Open all year to guests.
Cathkin Braes
Glasgow hardly conjures up the typical location for a golf course, but just on the outskirts of the city you can find the oldest course still in play in the Glasgow area. Established in 1888, Cathkin Braes provides a moorland oasis to golfers visiting the city on business. Open all year round.
Haggs Castle
Haggs Castle is set in the Pollock Estate in the centre of Glasgow, which is also home to the impressive Pollock House and the Burrell Art Collection. It is hard to comprehend that such a quiet parkland course could be so close to the city centre. As is often the case, good quality courses become overlooked as newer courses appear, but this one really needs to be played. Haggs Castle has previously hosted European Tour and PGA events over the years. Open all year and visitors welcome.
Dumfries & Galloway
Dumfries and Galloway is one of the more temperate parts of Scotland, benefitting in some areas, from the Gulf Stream. You will find an interesting mix of links and inland courses here and it is particularly good at introducing younger players to the game.
Portpatrick Golf Club
Sitting in the path of the Gulf Stream, Port Patrick is famous for its more favourable climate which enables good quality golf to be played all year round. The championship Dunskey Course has amazing views over the Irish Sea looking towards Northern Ireland, the Isle of Man and Mull of Kintyre….it is one of the few places where you can see England, Scotland and Ireland all at once. Visitors welcome all year round.
Stranraer Golf Club
If your goal is to play all of the James Braid Designed courses, then you must end as he did, here in Stranraer. The final course designed by one of the greatest course architects ever, lies next to Loch Ryan, with views of the Isle of Arran and Ailsa Craig.
Southerness Golf Club
Moving along the Galloway coast, Southerness provides another course with stunning views…this time of the Solway Firth and the Lake District. Southerness ends the run of Championship courses which litter the south western side of Scotland, this being the most southerly of them all. As well as hosting a number of championship tournaments, the course frequently appears in golfers lists of top courses.
The Borders
Roxburghe Golf Course
It's not everyone that can afford to have their own golf course, but the Duke of Roxburghe commissioned Belfy designer, Dave Thomas to design a course at his Jacobean property in the Scottish Borders. Only opened in 1997, Roxburghe is the region's first Championship Golf Course and has hosted the Scottish Seniors Open. The course is open to visitors but players must provide handicap certificates of 24 for men and 36 for ladies to play this course.
The Hawick Golf Club
Whilst there are many fine courses in the Borders, Hawick Golf Club is reputed to be the oldest having been established in 1877. Fine rolling hills, whins and tree lined fairways give sumptuous views over the Borders countryside. A wonderful all ability course and visitors are very welcome.
Ayrshire & Arran
With such a huge expanse of coastline, it is no wonder that Ayrshire is home to some of the most spectacular links golf courses in the UK. There are over 50 golf courses in Ayrshire and Arran, ranging from world famous Championship courses, through to courses suitable for beginners. Here we have focused on the most famous courses on every golfer's bucket list, but our B&Bs will be happy to recommend and book a course to suit your needs.
Trump Turnberry
Turnberry Golf Course is situated on the rugged Ayrshire coast looking out over the Firth of Clyde towards Ailsa Craig, the Isle of Arran and the Mull of Kintyre…..for location and scenery it really cannot be beaten. The terrain and the wind blowing in off the sea presents unique challenges to even the most experienced golfer. Turnberry has hosted The Open Championship 4 times, The Women's British Open and the Senior Open Championship 7 times. Comprises three courses, Ailsa, Kintyre and Arran. Ailsa will close 27th September 2015 and reopen in June 2016 for changes and upgrades. Kintyre and Arran can be played by visitors but booking essential.
Royal Troon
Royal Troon is also located on the Ayrshire coast just north of Ayr. A links course, Troon is famous for being home to the longest and shortest holes in Open Championship Golf. The course has hosted the Open Championship an impressive 8 times and is set to achieve its 9th time on 14th - 17th July 2016. Visitors' Days Monday, Tuesday and Thursday with the visitor season commencing late April to mid October. Tee Times can be booked online in advance.
Prestwick
Prestwick Golf Course may not be as famous as it neighbours, but it has earned its place in golfing history by being the birthplace of The Open Championship. Started here in 1860, Prestwick remained on The Open's rotation until 1952 hosting the championship an impressive 24 times. Taking advantage of its coastal position, this links course features some impressive sand dunes and views of the Irish Sea. Prestwick remains a private members' club, but visiting golfers can book to play the course. Prestwick offers a wide choice of Tee Times to visitors April – October and booking is advised. Winter dates also available.
The Kingdom Of Fife
Fife has to be the first stop for any golfer on a tour of Scotland's golf courses. For it is here that you will find one of the oldest golf clubs in the world and where 'the rules' of golf were formed. There are over 45 courses, many of them links courses taking advantage of the spectacular coast line on the east of Scotland.
St Andrews
Widely renowned as 'the home of golf', St Andrews is not just a golf course, but more a whole town surrounded and obsessed with golf. Unlike some of the other famous courses in Scotland, the 8 courses of St Andrews are publicly owned and open to everyone. BUT, you will need to book well in advance as turning up on the day and expecting a round would be highly unlikely! Many of the courses at St Andrews can be booked online, but gaining a tee time at The Old Course requires a suitable handicap of 24 for Men and 36 for women and then entry into a ballot.
Kings Barns
Golf has been played at Kings Barns since 1793, alternating between golf, farmland, golf, military use, farmland and then in 2000 returning as the golf course we see today. Situated just 6 miles from St Andrews, it is said that you can see the North Sea from every hole on the course. Working with the Old Course at St Andrews, Kings Barns has been hosting the Dunhill Links Championship and was the final qualifying course for the Open Championship in 2010. Visitors welcome end March to Mid November.
Crail
Crail Golfing Society is another of Scotland's societies which can trace its history back to the 1700's. Formed in 1786, Crail is the 7th oldest golf club in the world and operates two courses, Craighead and Balcomie. Whilst there is not a championship course, Balcomie is no less testing with a par 69 across 5,922 yards and holds its own unique competition in September, The Ranken Todd Bowl, where the tournament is played in a single day across 54 holes! The location offers everything you expect from a Scottish links course, weather courtesy of the Firth of Forth, a haunted castle and views to die for. Crail is open to visitors all year round. Booking Advised
Edinburgh & The Lothians
Away from the hustle and bustle of the nation's capital, you can find a number of fabulous golf courses in the rolling countryside of the Lothians. Quality inland and links courses are just a stone's throw away for golfers of all abilities.
Muirfield
Muirfield has played host to The Open Championship an impressive 16 times, the most recent being 2013. Whilst not unique, it was one of the first links courses to deviate from the traditional layout running along the coast and then back again. Muirfield features two concentric rings of 9 holes clockwise and counter clockwise meaning that there is a different wind directions at every hole….a test indeed. Visitors allowed on Tuesday and Thursdays….ladies only when accompanied by a gentleman!
Musselburgh
Musselburgh is home to two famous courses, Musselburgh Links, The Old Course and The Royal Musselburgh Golf Course. Both have a long and illustrious history with The Old Course having evidence of golf being played on the site as far back as 1672 and the Guinness Book of Records recognising it as the oldest golf course in the world. The Old Cup, which is on display in the clubhouse at The Royal Musselburgh Golf Course was played for the first time in 1774 and is the oldest golf trophy that has been continuously played for. Both courses are open to visitors and can be booked in advance.
North Berwick Golf Club
If you want to play golf on a course as it was originally intended, then North Berwick is the one for you. The links course here is the third oldest in the world and is still played over its original fairways. Where many others have been redesigned several times, this course remains true to its 1832 layout….a layout that follows the contours of the land as if nature had designed it herself. Visitors welcome 6 days a week at specified tee times. Booking advised.
The Highlands
You wouldn't imagine, with its rugged mountainous landscape that the Highlands could possibly be home to any golf courses. How wrong you would be, as there are over 46 courses around the Highlands combining championship courses amidst unique scenery. Many courses are open Dawn to Dusk, which in the summer in the Highlands makes for an extremely late finish.
Castle Stuart
This is a relatively new course, but has quickly made it into the world's Top 100 Golf Courses thanks in part to its spectacular location on the Moray Firth. The course was generating excitement before it was even finished in 2009 and it has already hosted a number of championships. In 2016 it will play host again to the Scottish Open. Only 25 minutes from Inverness Airport. Open to Visitors End March to Mid November. Booking advised
Nairn Championship Golf Course
Despite the arrival of its glamorous new neighbour (Castle Stuart), Nairn Championship Course still holds its position in the Top 50 of the world's golf courses. The hands of several famous course designers from Tom Morris, James Baird and Ben Sayers have played a part in developing the course. Open to visitors and tee times can be booked easily online. Open all year to visitors
Royal Dornoch
Royal Dornoch Golf Club is home to two courses, the Championship Links course and the Struie Course. The Championship course regularly features highly in world rankings, but has hosted relatively few modern professional tournaments. Recognised as being a 'must play' course by many professionals, it is worth the effort to travel to this part of Scotland to experience the wild and rugged course. Open to Visitors all year and booking strongly advised.
Perthshire
Perthshire is home to one of Scotland's most famous golf courses, Gleneagles, but the rolling moorland landscape is home to over 40 clubs and societies. One of these, the Royal Perth Golfing Society and County and City Club is the oldest Royal Club in the world, being the first to gain a Royal title in 1833.
Gleneagles
A must play on every golfer's bucket list, Gleneagles is the only course in the UK to have 3 championship courses. King's Course, Queen's Course and PGA Centenary Course. Gleneagles has been the home of the Johnnie Walker Championship since 1999 and hosted the Ryder Cup in 2014. Book early and you could be lucky enough to play this course. Courses are open all year but must be booked in advance. Golf Equipment for hire.
Craigie Hill
Craigie is set in the beautiful Perthshire countryside with views of the River Tay and the Grampian mountains. The city of Perth is just a short drive away and its illustrious neighbour, Gleneagles, just 17 miles away. This is an 18 hole course boasting one of the hardest holes in Britain, the 'Spion Kop'. Craigie is open to visitors all year and online booking is available and recommended.
Blairgowrie
Blairgowrie offers three courses, two 18 hole and one 9 hole 'wee course'. None of them are championship courses, but what they lack in badges and awards they more than make up for in location. Situated at the base of the Grampian Mountains and surrounded by forest and heathland, playing at Blairgowrie is like a golfing cocoon after the ravages of the coastal links courses. All courses open to visitors and can be booked online.
Angus and Dundee
Just up the coast from St Andrews, Angus and Dundee continues the impressive run of golf courses along the eastern side of the country. There are 30 courses all within 40 minutes drive of each other, with of course, Carnoustie, at its heart.
Carnoustie
Carnoustie's Championship course is widely considered one of the most difficult courses in the world. It has been the downfall of many championship golfers, earning it the nickname name 'Carnasty'. This course is less about the views and more about the test of your game. So, if challenging your golf abilities and conquering the worst that nature can throw at you is more your thing, this is the course for you. There are two other less testing courses available as well, Burnside and Buddon Links. Carnoustie is open to visitors all year but a handicap limit of 28 for men and 36 for women applies in some cases.
Montrose Golf Links
As if often the case, interesting courses near the Goliaths of Scottish golf often get overlooked. Montrose is one such case. Older than its more famous neighbour, Montrose is the 5th oldest golf course in the world. This course is more than a gap filler between other courses and is best visited in May when the ample gorse is in full flower. Open to visitors all year round at very reasonable prices.
Aberdeen & Grampian
This area has 70 golf courses to choose from, which makes this region of Scotland a golfer's paradise. The landscape is beautiful and challenges the golf enthusiast to his full potential. With breathtaking sea views or endless forest lined courses, your golfing experience in Aberdeen & Grampian will be exciting and relaxing. World-class golf courses like Royal Aberdeen, Trump International and Old Moray, which attract golfing professionals from all corners to compete in the Championship Tournaments as well as amateur visitors discovering the less well known courses found in nearly every village across the area.
Royal Aberdeen
Your dream of playing in a pioneering golf course will come true when you tee off at the Royal Aberdeen Golf Club. Founded as the Society of Golfers at Aberdeen in 1780, it is the 6th oldest golf course in the world. The Aberdeen Golf Club was built in 1815 and it was awarded the title Royal in 1903 and it hosted the Scottish Open in 2014. A testing links course with a varying wind and spectacular views. Booking essential with some restriction for visitors at weekends.
Moray Golf Club
Two courses, one is a Tom Morris' masterpiece and known as the Old Moray Course in 1889 and the new Moray course was designed by the famous player, Henry Cotton. Built skirting the southern shores of the Moray of Firth, with a view of the waters from most of the course, these courses provide a challenging but enjoyable game with terrific sea views. Visitors welcome with some green fee cost saving at quieter times of day.
Trump International
Opened in 2012, this course has created a lot of publicity with its infamous owner but it has already been ranked in the top 100 golf courses in the world. All the holes run North/South to make best use of the sand dunes and is already touted as a new Championship course. Visitors are welcome but advance booking is advisable.
Braemar
Mention must be made of this 18 hole course as the highest full golf course in the UK. Set among magnificent mountains, this is a shortish but demanding golf course with no sand bunkers but the River Clunie featuring on a number of holes. Prince Andrew, The Duke of York is the patron and there is an ongoing High Altitude Challenge to beat the Scratch score by 2 shots. Visitors welcome and tee times are usually readily available.