Cleaning Protocols Overlay for B&B and Guest House properties in the context of Covid-19
Page last updated 9 August 2021
We are in the process of updating these documents and new guidance will be uploaded shortly based on the updated information from the ASSC.
For information about face coverings in tourist accommodation from 9 August 2021, please consult the Tourism FAQs by the Scottish Government
Please email us if you have any queries or comments on [email protected]
This guidance was developed in April 2021 in partnership by Scotland's Best B&Bs and the Scottish Guest House and B&B Alliance. It has been adapted (with permission) from the guidelines produced by the Association of Scottish Self-Caterers (ASSC) and the Professional Association of Self-Caterers (PASC).
This document is designed for all short-term accommodation operators: owners, hosts, and property management companies and bed and breakfast owners. The original ASSC guideline document has been amended to incorporate the needs of bed and breakfast and guest house owners and operators.
In addition to the high level guidelines, the document includes:
Bed and Breakfast Risk Assessment Template
Bed and Breakfast Cleaning Check List
FAQ: Cleaning Protocols and Additional Guidance
The aim of these documents is to provide some helpful guidance and a framework which individual businesses may wish to use and adapt as they see fit. Recognising that all B&B establishments are different, we hope these guidelines will help you to create your own risk assessment.
Download the Cleaning Protocols Overlay for B&B and Guest House properties in the context of Covid-19 (Version 1, dated April 2021):
Word version (1.6 MB).
PDF version (1.1 MB).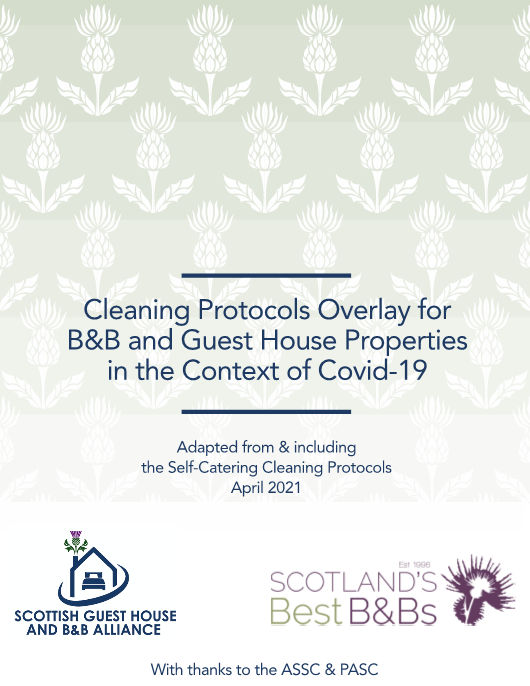 Additional resources:
The ASSC is updated its Cleaning Protocols document in July 2021. You can download the latest version via their site.
Landlord's Little Helper - online training module for Cleaning Protocols for Self-Catering Properties and Short-Term Lets in the Context of Covid-19. This has been recommended by ASSC and may also be useful for B&B owners.
VisitScotland has endorsed the UK-wide Good to Go self-certification scheme.
VisitScotland also has a page with lots of useful information links for tourism businesses: Get Tourism Ready.