The Nithsdale 40
01/07/2018
July's blog comes from Stewart Lee at Holmhill Country House in Dumfriesshire who writes about his ideas for The Nithsdale 40.
The North Coast 500 is a 500 mile publicised route around Scotland's northern coastline. "NC500" has been a spectacular success attracting large numbers of visitors to the North of Scotland. Well this blog is about THE NITHSDALE 40.
The Nithsdale 40 is a route along the valley of the River Nith, through Dumfries to somewhere slightly beyond Sanquhar (local pronunciation "Sanker"). It's not been publicised. It's not even been invented yet. But if it was, it might attract visitors to another part of Scotland rich in scenery, heritage and good hospitality; and being just 40 miles, it's readily walked or cycled as well as driven.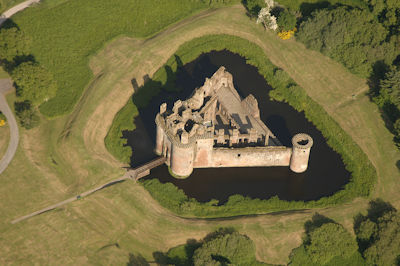 If you travel the Nithsdale 40 from south to north then a good starting place is Caerlaverock Castle, near where the Nith meets the Solway Firth. Stand in awe of the red sandstone defensive walls – unique in Britain for their triangular shape. Learn about siege warfare by visiting the permanent exhibition.
From Caerlaverock, head to Dumfries and visit the house where Scotland's national bard Robert Burns spent his last years, or the town's Museum and Camera Obscura.
From Autumn 2018, Dumfries is also to have "An Enchanted Land of Childrens' Stories", the birthplace of Peter Pan at Moat Brae. Hide, climb, seek, and explore the Neverland Garden.
Continue north, passing Charles Jenks modestly named Garden of Cosmic Speculation. You're passing it because unless you're very lucky it's one of the 364 days a year when it's not open to the public. Don't worry. There's another Charles Jenks creation further along the Nithsdale 40!
This is Robert Burns country and after another few miles you reach Ellisland Farm, the family home he built in 1788 for his bride Jean Armour. Admire the view of the Nith from his study where many of his greatest works, e.g. Tam O'Shanter, were penned. Connect to the Bard's life via an extensive collection of artefacts, memorabilia and manuscripts.
At Auldgirth the Nithsdale 40 offers two alternative routes. Continue on the A76 and (particularly if you are a cyclist) branch off East climbing to picturesque Loch Ettrick.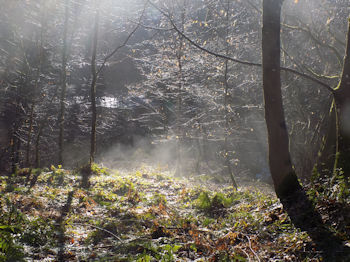 On this eastward branch you could also take in Crichope Linn. This is a magical abyss with dramatic scenery and fascinating history. The rocky walls amidst lush surroundings have been attracting visitors for at least two centuries, including Sir Walter Scott (who wrote about it in Old Mortality). You enter the glen at its foot and after a few minutes woodland walk a sheer sided gorge appears in front of you. Be careful on the paths.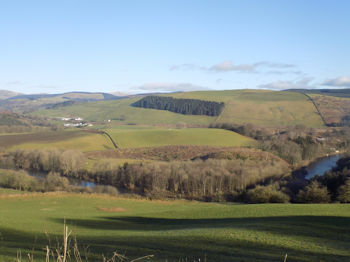 Alternatively, from Auldgirth travel west of the Nith passing through Glenmidge – yes, that's its name! As the road reaches the top of Glenmidge, upper Nithsdale opens before you and the views down to the river are stunning. The road winds on to Keirmill, where in 1842 local blacksmith Kirkpatrick McMillan gave the world the first pedal-driven bicycle.
The plaque marking his house illustrates how to understate the feat of inventing a machine which is now produced worldwide at the rate of 100 million a year.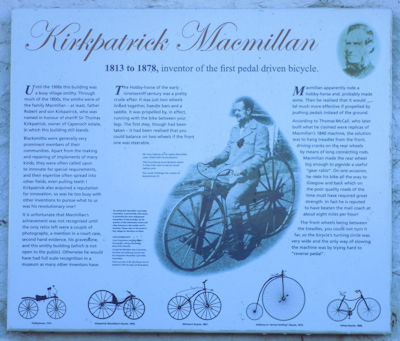 Our alternative Nithsdale 40 routes come together again at Thornhill and the best way to get an idea of the beautiful river and farmland country around Thornhill is to watch this drone video produced by a past Holmhill guest.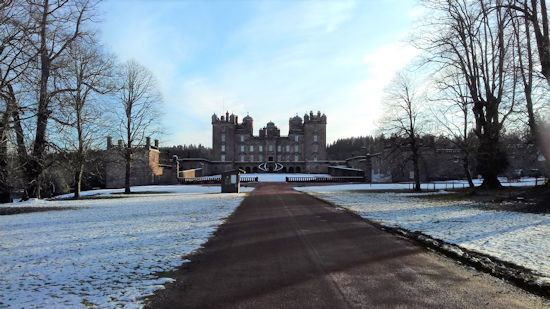 From Thornhill continue north along the Nith until you arrive at magnificent Drumlanrig Castle. It's a stately home, an event venue, gardens, forest walks, mountain biking trails. It's also an Outlander TV series location.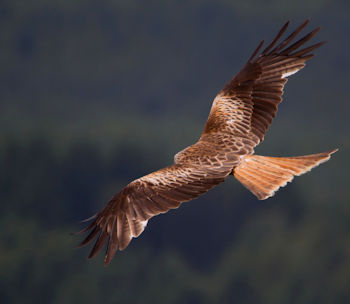 Another 10 miles on the Nithsdale 40 takes you to Sanquhar. Here, the Tolbooth Museum is a handsome Georgian town house in which the history of the village is revealed. Find out what life was like in the town's jail and about the miners of Sanquhar, as well as the local weaving and hand-knitting industries. If you've got time, you can also take a detour up Mennock Pass. Look out for red kites. Pan for gold in the river (but don't give up the day job), and eventually reach Wanlockhead, the highest village in Scotland.
Just north of Sanquhar is the Crawick Multiverse where landscape art transforms a former open cast coal mine into an outdoor space that can be enjoyed by future generations. Designed by globally-renowned landscape artist Charles Jenks, this is a stunning representation of the theories of the universe linking themes of space, astronomy and cosmology. Now you know!
So that is the Nithsdale 40 I imagine. I hope I've illustrated what an incredible variety of great things there are to see and do in a relatively small area. Oh, and by the way, there are lots of good places to eat, and drink, and stay, along the route too. Maybe the Nithsdale 40 should move beyond my imagination!
Holmhill Country House is located in Dumfriesshire. To read more about this 5 Star B&B or book a stay Click HERE